Player of the week: Tyler LaPlante
By Wayne E. Rivet
Staff Writer
Tyler LaPlante has been an iron man for the Lake Region varsity boys' soccer team this fall.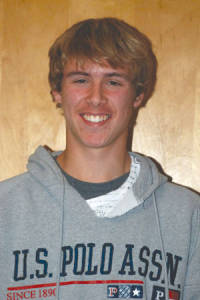 "Tyler has been a great addition to our varsity team this year. In his first year on varsity, he has stepped up to be a key part of our defense while playing almost every minute of every game," LR Coach Don White said. "Tyler's attitude makes him a great player to coach."
During the summer workouts and the preseason, it became obvious to Coach White that Tyler had worked on improving both his foot skills and his fitness during the off-season.
"In practice, he is constantly pushing himself to improve. Tyler's speed and footwork have made him a very tough defender to beat," Coach White said. "He always gives a 100% effort throughout the games. The fortunate part for our team is that Tyler is only a sophomore."
In recognition of his strong work ethic, determination, commitment and good sportsmanship, Tyler is this week's Boosters and Hancock Lumber "Player of the Week." Each week, a Lake Region athlete is recognized for his/her dedication (does more than what is asked), work ethic, coachability and academic good standing. Recipients receive a specially-designed t-shirt, sponsored by Hancock Lumber, and a $25 gift certificate to Salon at 616 in Casco.
The LaPlante File
Name: Tyler LaPlante
Year in School: Sophomore
Town: Bridgton
Parents: Gary and Janette LaPlante
School Activities/Sports: Soccer
Q. Why did you choose soccer? I chose soccer because I would like to have a future with it in college, but I also like being on a team with my friends.
Q. What did you hope to accomplish this season? To keep improving my skills and hustle to be the best I can be.
Q. What did you enjoy the most? I enjoy playing left mid because I can be up with the offense, but also go to defense when I'm needed.
Q. What did you like the least? What I liked the least was sprints, but I still did them to stay in shape for the season.
Q. What makes you successful? What I think makes me successful is my determination and self-drive to do my best.
Q. What would your dream moment be? To be picked for the all-state team.
Q. What has soccer taught you? Soccer has helped me with working with others and never to give up, no matter what.
Q. Who has inspired you? My whole team inspires me to do my best every practice and game, and also my parents pushing me to my fullest.
Please follow and like us: