Player of the Week: Tiffany Chaplin
By Wayne E. Rivet
Staff Writer
As a first-year varsity soccer player, Tiffany Chaplin figured she would be spending most of her time on the Lake Region bench.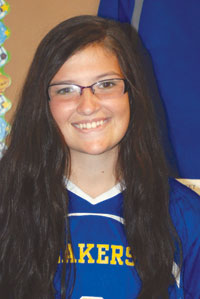 She never dreamed she would be a starter.
Well, circumstances changed and Tiffany has made the most of her unexpected opportunity.
"Because of injuries and other circumstances, Tiffany has been called upon to start all of the games. She has more than risen to the challenge," Lake Region varsity girls' soccer coach Lynne Harrison said. "She is the perfect example of a kid who has worked hard without receiving the attention of a high scorer or starter, but was willing to contribute in anyway possible. She has always served as a role model for younger athletes."
In recognition of her strong work ethic, determination, commitment and good sportsmanship, Tiffany is this week's Boosters and Hancock Lumber "Player of the Week." Each week, a Lake Region athlete is recognized for his/her dedication (does more than what is asked), work ethic, coachability and academic good standing. Recipients receive a specially-designed t-shirt, sponsored by Hancock Lumber, and a $25 gift certificate to Salon at 616 in Casco.
The Chaplin File
Name: Tiffany Chaplin
Year in School: Senior
Town: Bridgton
Parents: Clint and Elaine Chaplin
School Activities/Sports: Soccer, softball, National Honor Society, Varsity Club
Q. Why did you choose soccer? I started soccer at 5 and have loved it ever since.
Q. What do you hope to accomplish this season? Continue to improve and set a good example for my younger teammates.
Q. What do you enjoy the most? Throughout the season, the team becomes a family. I love being part of that family.
Q. What do you like the least? When players get down on themselves after the game.
Q. What makes you successful? The drive to be the best I can, not just for my benefit, but for my team.
Q. What would your dream moment be? Winning the championship to end my senior soccer season.
Q7. What has soccer taught you? Discipline, responsibility and what a group of passionate people can do.
Q. Who has inspired you? My aunt, Chrissy. She was the first person from Lake Region to go to Harvard. She became a successful dentist and fought for her life until cancer became too much. R.I.P.
Please follow and like us: