Player of the Week: Sarah Curley
By Wayne E. Rivet
Staff Writer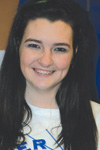 Sarah Curley has proven herself to be an extremely strong member of the Lake Region varsity cheerleading team and a positive role model for those new to the sport.
"As an experienced varsity cheerleader, she has continued to show her ability to help her teammates learn the sport, and be dedicated no matter what is going on outside of practice. She always keeps a smile on her face," said her coaches, Nicole Muise, Ashleigh London and Darcie Kent. "This season, she has had one of the strongest attendances in both practices and games. Sarah has been someone we (coaches) have come to rely on. We have all been very proud of how far she has come and how hard she has worked to get there. That's why we have chosen her as this week's Player of the Week."
In recognition of her strong work ethic, determination, commitment and good sportsmanship, Sarah is this week's Boosters and Hancock Lumber "Player of the Week." Each week, a Lake Region athlete is recognized for his/her dedication (does more than what is asked), work ethic, coachability and academic good standing. Recipients receive a specially-designed t-shirt, sponsored by Hancock Lumber, and a $25 gift certificate to Salon at 616 in Casco.
The Curley File
Name: Sarah Curley
Year in School: Sophomore
Town: Bridgton
Parents: Sheila Curley and Joel Curley
School Activities/Sports: Varsity cheering
Q. Why did you choose cheering? I picked cheering because I've always wanted to be a cheerleader. I look at the sport as challenging and fun at the same time.
Q. What do you hope to accomplish this season? Next season, I would like to improve my tumbling and maybe even get my back handspring.
Q. What do you enjoy the most? The best feeling is after competing at a competition or performing at halftime at a game, knowing that you and your team worked hard for that moment to shine and show everybody what cheerleading means to you.
Q. What do you like the least? There is nothing that I don't like about cheering. Everything about cheerleading is so much fun.
Q. What makes you successful? Working hard as a team and practicing. Putting my mind to it and trying my absolute best.
Q. What would your dream moment be? My dream moment would be having our team place at Regionals next year and make it to States. That would be amazing!
Q. What has cheering taught you? Cheerleading has taught me to get more involved in school. You are representing your school, which takes a lot of pride.
Q. Who has inspired you? My older brother has inspired me because he is always pushing me to try my best at sports and schoolwork. He was always involved with sports at his school, and I looked up to him as a leader. He inspired me to want to get involved with sports.
Please follow and like us: