Player of the Week: Nele Haunschild
By Wayne E. Rivet
Staff Writer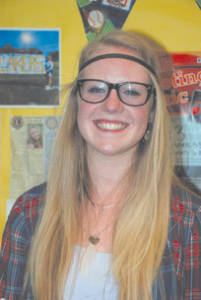 Nele Haunschild is not only a fantastic tennis player, but she is a great role model for beginner players.
"Nele often volunteers to help others to improve their game and helps me in an assistant coach's role," said Lake Region varsity girls' tennis coach Kim Peterson. "Nele is open to any and all suggestions and is always looking to improve. She has brought a new perspective to our team this year. Nele is enthusiastic yet focused, competitive yet friendly, skilled yet humble."
In recognition of her strong work ethic, determination, commitment and good sportsmanship, Nele is this week's Boosters and Hancock Lumber "Player of the Week." Each week, a Lake Region athlete is recognized for his/her dedication (does more than what is asked), work ethic, coachability and academic good standing. Recipients receive a specially-designed t-shirt, sponsored by Hancock Lumber.
The Haunschild File
Name: Nele Haunschild
Year in School: Senior
Town: Sebago
Parents: Steve and Tammy Girardin
School Activities/Sports: Soccer, skiing, tennis
Q. Why did you choose tennis? NH. Because I played tennis at home since I was little. I love it!
Q. What do you hope to accomplish this season? NH. I hope to play my game, be happy with myself and have fun! Hopefully, I will win a couple of matches.
Q. What do you enjoy the most? NH. The feeling of doing something when there is a long ball exchange and make the point with a good shot. That feels awesome!
Q. What do you like the least? NH. When the other tennis players don't show that they have fun.
Q. What makes you successful? NH. I'm having fun and my support of my team.
Q. What would your dream moment be? NH. Having fun and success in the next matches.
Q. What has the sport taught you? NH. That it doesn't matter if you win or lose. You have to be happy with yourself.
Q. Who has inspired you? NH. My dad because he's a tennis teacher and he taught me how to play.
Please follow and like us: