Player of the Week: Kyle Peterson
By Wayne E. Rivet
Staff Writer
Paying a lot of attention to detail and working hard in practice enabled Kyle Peterson to be one of the top players on the Lake Region varsity golf team.
"Kyle was very dedicated, had a very good attitude, and worked well with our younger players," LR Coach Art Kilborn said. "He shot a 43 in our final meet,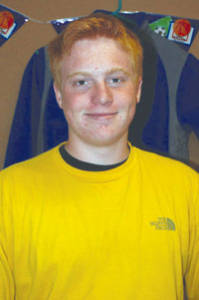 which was a nice way to end the season."
In recognition of his strong work ethic, determination, commitment and good sportsmanship, Kyle is this week's Boosters and Hancock Lumber "Player of the Week." Each week, a Lake Region athlete is recognized for his/her dedication (does more than what is asked), work ethic, coachability and academic good standing. Recipients receive a specially-designed t-shirt, sponsored by Hancock Lumber, and a $25 gift certificate to Salon at 616 in Casco.
The Peterson File
Name: Kyle Peterson
Year in School: Senior
Town: Casco
Parents: Kim and Kurt Peterson
School Activities/Sports: Golf, tennis, skiing
Q. Why did you choose golf? I chose golf because it is relaxing when you're willing to have fun.
Q. What did you hope to accomplish this season? What else, improve my game.
Q. What did you enjoy the most? Having fun playing golf with friends.
Q. What did you like the least? Walking two miles with an eighty-pound bag.
Q. What made you successful? The desire to progress.
Q. What would your dream moment be? Beating my brother in a round of golf.
Q. What has golf taught you? Patience.
Q. Who has inspired you? My grandfather, for teaching me how to play, and my brother, for making me play.
Please follow and like us: