Player of the Week: Kendra Fox
By Wayne E. Rivet
Staff Writer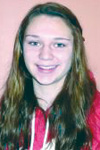 Dan Leland attended a clinic a number of years ago where Rick Pitino, then the head coach of the Boston Celtics, was speaking.
"I was looking at the notes while preparing for a practice because of a drill he introduced at the clinic. At the top of the page, I had written a quote that Coach Pitino mentioned in his talk, 'Excellence is the unlimited ability to improve the quality of what you have to offer.' My immediate thought was 'Wow, that is the perfect way to describe Kendra Fox.'"
Kendra may not be the best shooter, may not be the best rebounder, and may not even be the best passer on the Fryeburg Academy girls' varsity basketball team.
"Despite those facts, Kendra is a starter and if you watch a Fryeburg game you will find yourself asking, 'Who is that girl?' Kendra, although quiet and unassuming is the typical blue-collar player. She comes to play hard every day, whether it be practice or a game, she plays just as hard even when tired or sick," Coach  Leland said. "I have played Kendra in all positions. She is required to know everyone's job because at one point or another she will be in that position game after game. She gives 100% effort all the time and is a great role model. Her tireless commitment deserves to be recognized."
Coach Leland added, "Kendra is a team player and truly shows excellence in the way Coach Pitino described. Kendra continually works to improve the quality of what she has to offer. If she continues her hard work, and I have no doubt she will, Kendra will not be that player everyone is asking themselves 'Who is this kid,' but fans who walk into Wadsworth Arena will know her and be pleased to see #30 on the floor.  I know I will."
In recognition of her strong work ethic, determination, commitment and good sportsmanship, Kendra is this week's Raiders Boosters Club "Player of the Week." Each week, a Fryeburg Academy athlete is recognized for his/her dedication (does more than what is asked), work ethic, coachability and academic good standing. Recipients receive a specially-designed t-shirt, sponsored by the Raiders Boosters Club.
The Fox File
Athlete: Kendra Fox
Year in School: Sophomore
Hometown: Fryeburg
Parents: Marcus and Paige Fox
School groups/Sports: Field hockey, basketball and lacrosse.
Q. Why did you choose basketball? I have been playing basketball since I was young and I have always loved it.
Q. What do you hope to accomplish this season? This season, I hope to become a better player and make it to the playoffs with my team.
Q. What do you enjoy the most? I think the part I enjoy the most is when our team has a good game and we are all working hard and we make it a competitive game.
Q. What do you like the least? The thing I enjoy the least about basketball is when the team gets frustrated and we lose focus in the game — that usually is when we are not playing our best.
Q. What makes you successful? I am successful after I do something good in a game, that always boosts my confidence!
Q. What would your dream moment be? My dream moment would be when we are in a close game, and the clock is running out, we would come back and win with no time to spare!
Q. What has sports taught you? Sports have taught me a lot about teamwork and leadership. A team must work together to be successful.
Q. What do you like most about your team? Our team has really started to get along well and we have been playing well together as a result.
Q. Who has inspired you? My mom has inspired me because we have always played basketball together and she always supports me and helps me try to get better.
Please follow and like us: