Player of the Week: Hannah Cutting
By Wayne E. Rivet
Staff Writer
Hannah Cutting isn't one to make a lot of noise, but she certainly makes her presence felt.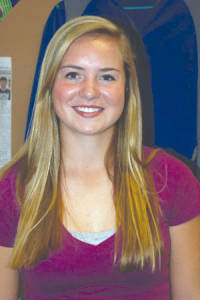 An anchor in the midfield, Hannah was also a threat in the scoring circle by unloading hard drives, as was on display in the season finale last week as she drilled a drive from the top of the arc as the Lake Region field hockey team blanked Yarmouth 3-0.
"Hannah is a very dedicated athlete who has the skills and the ability to get the job done. She works very hard in whatever position we put her in," LR Coach Dagny Leland said. "She has a kind spirit, but loves the competition as well. Hannah has developed into a class act of an athlete and hopefully she will continue that throughout her senior year in the sports she chooses to play."
In recognition of her strong work ethic, determination, commitment and good sportsmanship, Hannah is this week's Boosters and Hancock Lumber "Player of the Week." Each week, a Lake Region athlete is recognized for his/her dedication (does more than what is asked), work ethic, coachability and academic good standing. Recipients receive a specially-designed t-shirt, sponsored by Hancock Lumber, and a $25 gift certificate to Salon at 616 in Casco.
The Cutting File
Name: Hannah Cutting
Year in School: Senior
Town: Sebago
Parents: Marie and Jeff Cutting
School Activities/Sports: Field hockey, basketball, softball, Varsity Club, AFS, National Honor Society.
Q. Why did you choose field hockey? It looked like a lot of fun and I wanted to try it out.
Q. What did you hope to accomplish this season? I hoped we would make it to the playoffs, but we barely missed the mark.
Q. What did you enjoy the most? I love being on a team and playing the sport we love together.
Q. What did you like the least? I hate it when the season is over.
Q. What makes you successful? I always try to work my hardest in practice so when it is time for a game, I'm ready.
Q. What would your dream moment be? Scoring my first goal this season, and I did in my last game!
Q. What has field hockey taught you? Field hockey has taught me how to play as a team and to always try my hardest in order to achieve my goals.
Q. Who has inspired you? Lauren Gillespie, because she has always worked her hardest and is now teaching high school players, including me, to do the same.
Please follow and like us: