Player of the Week: Don Kellough
By Wayne E. Rivet
Staff Writer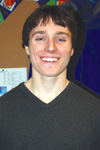 Don Kellough is a "quiet leader" of the Ice Cats varsity hockey team.
"Don leads by example. Even in the tough games, Don (who plays forward) finds a way to put points on the board for us," said Lake Region/Fryeburg Academy Ice Cats Head Coach Dave Lepage. "His work ethic is second to none. He currently leads us in total points and goals for the season."
In recognition of his strong work ethic, determination, commitment and good sportsmanship, Don is this week's Boosters and Hancock Lumber "Player of the Week." Each week, a Lake Region athlete is recognized for his/her dedication (does more than what is asked), work ethic, coachability and academic good standing. Recipients receive a specially-designed t-shirt, sponsored by Hancock Lumber, and a $25 gift certificate to Salon at 616 in Casco.
The Kellough File
Name: Don Kellough
Year in School: Junior
Town: Naples
Parents: Pam and Greg Kellough
School Activities/Sports: Varsity hockey, baseball
Q. Why did you choose ice hockey? Why not? It's the fastest sport in the world, and for me, it's the most fun.
Q. What do you hope to accomplish this season? I hope to pass down my skills and tricks to my younger teammates, that way when they're seniors, they'll be educated well.
Q. What do you enjoy the most? The thrill of scoring goals and playing a physical game. Wins and losses don't matter to me. What matters is having fun and learning from my mistakes.
Q. What do you like the least? I would say losing, but losing is what makes you better, and why wouldn't I want to get better?
Q. What makes you successful? My friends and family because without my family, I wouldn't be the player I am today, nor would I be getting this award. So, thank you Mom and Dad and my friends.
Q. What would your dream moment be? It's a big dream, but go big or go home, right? My dream would be to hold the Stanley Cup up high and be proud.
Q. What has hockey taught you? To know my limits and that has made me a strong, mental player. Without hockey, I don't know what kind of person I'd be.
Q. Who has inspired you? Alex Ovechkin (all-star player for the Washington Capitals), because not only does he play a physical and mental game, he also has a lethal shot, as well. Someday, I'd like to be just like him.
Please follow and like us: