Player of the Week: Devin Langadas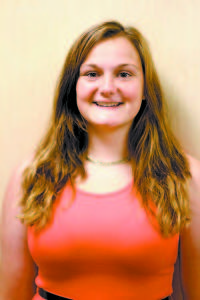 Devin Langadas brings a little attitude to the Lake Region varsity girls' soccer team's defense — and it's all good.
"Devin has worked very hard during preseason and the first two weeks of the regular season to earn her varsity position as a fullback. She brings a positive attitude to the team and works extremely hard in games," Laker Coach Harvey Toews said. "Devin has good field vision and never backs down from a physical challenge. Her bright smile, positive attitude and hard work have earned her the recognition as Lake Region girls' soccer Player of the Week."
In recognition of her strong work ethic, determination, commitment and good sportsmanship, Devin is this week's Boosters and Hancock Lumber "Player of the Week." Each week, a Lake Region athlete is recognized for his/her dedication (does more than what is asked), work ethic, coachability and academic good standing. Recipients receive a specially-designed t-shirt, sponsored by Hancock Lumber.
The Langadas File
Name: Devin Langadas
Year in School: Senior
Town: Sebago
Parent: Julie Koceika
Sports you play: Soccer
School organizations: Student Council, Varsity Club
Q. Best piece of advice you have received? "It's never too late to prove yourself," — brother, Alex Langadas.
Q. Who is your biggest fan? My mom, because she always believed in me and loved me when I couldn't, and Greg (no walls).
Q. I know I have had a good sports day when…I can't walk the next day.
Q. What is your favorite sport? Soccer, because I love the game and I love wearing my jersey 21.
Q. If I could change one thing about myself as an athlete, I would change…I wouldn't change anything because all I can do is my best and that's what I do.
Q. What qualities make for a good teammate? Respect, understanding and a hard worker.
Q. What do you believe you bring to your team? Positive energy and good vibes.
Q. What characteristics do you feel make for a good coach? Someone that is funny and you can look up to and feel comfortable around; like my coaches now. It's like I have four dads and that's a good feeling.
Please follow and like us: