Player of the Week: Danny Place
By Wayne E. Rivet
Staff Writer
Danny Place is playing like he never left golf.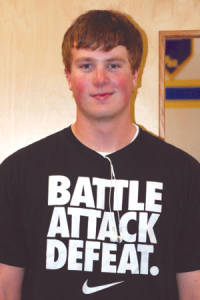 As a freshman, Danny joined the Lake Region varsity golf team, but would move on to play football. This fall, he returned and has settled in quite nicely, according to varsity coach Art Kilborn.
"Danny works hard and his leadership has had an impact on our younger players," Coach Kilborn said. "He is willing to take advice and asks for it occasionally, as well. I've seen big improvements in his game. Being our Number 1 player, he has faced off against other teams' best players, and has been very competitive. No matter what the score is, Danny plays hard and shows great sportsmanship."
In recognition of his strong work ethic, determination, commitment and good sportsmanship, Danny is this week's Boosters and Hancock Lumber "Player of the Week." Each week, a Lake Region athlete is recognized for his/her dedication (does more than what is asked), work ethic, coachability and academic good standing. Recipients receive a specially-designed t-shirt, sponsored by Hancock Lumber, and a $25 gift certificate to Salon at 616 in Casco.
The Place File
Name: Danny Place
Year in School: Senior
Town: Naples
Parents: Tim and Beth Place
School Activities/Sports: Golf, basketball, baseball
Q. Why did you choose golf? My dad got me into it as a kid, and I started playing a lot this summer, so I decided to play.
Q. What do you hope to accomplish this season? Qualify for States.
Q. What do you enjoy the most? I enjoy snowmobiling the most.
Q. What do you like the least? Running.
Q. What makes you successful? My work ethic.
Q. What would your dream moment be? Hitting a walk-off home run in a championship game.
Q. What has golf taught you? Mental toughness.
Q. Who has inspired you? My strength coach, Adam Tielinen, because he pushes me more than anyone, and wants me to succeed like he knows I can.
Please follow and like us: