Player of the Week: Damon Knight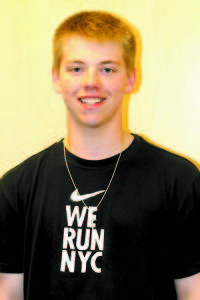 Damon Knight may be a rookie on the Lake Region varsity baseball team, but he is showing he is up for the challenge.
Batting leadoff and playing second base, Damon is currently hitting over .300 and has shown excellence on the field.
"He has shown great hustle and work ethic. His first year on varsity as a sophomore, he's stepped up to fill a hole at second base," Laker varsity baseball coach Randy Heath said. "Since the beginning of the season, Damon has been one of the leading hitters on the team. Expect to see more from him as he gains experience at the varsity level."
In recognition of his strong work ethic, determination, commitment and good sportsmanship, Damon is this week's Boosters and Hancock Lumber "Player of the Week." Each week, a Lake Region athlete is recognized for his/her dedication (does more than what is asked), work ethic, coachability and academic good standing. Recipients receive a specially-designed t-shirt, sponsored by Hancock Lumber.
The Knight File
Athlete: Damon Knight
Year in School: Sophomore
Town: Bridgton
Parents: Jenine and Ryan Staley
Sports you play: Baseball, basketball, golf
Q. Best piece of advice you have received? DK. Don't ever let anyone tell you what's good for you – Dad.
Q. Who is your biggest fan? DK. My grandfather. He's always at games cheering me on whenever he can be.
Q. I know I have had a good sports day when… DK. I know I have had a good sports day when I feel like I've put everything I had into that sport.
Q. What is your favorite sport? DK. Baseball because I've loved it ever since I was a kid and have played it my whole life.
Q. If I could change one thing about myself as an athlete, I would change... DK. The amount of water I drink. This would help me become more energized.
Q. What qualities make for a good teammate and whom do you consider a good teammate? DK. Positive attitude, dedication and picking others up when they're down. Charlie, Ben and Nate are good teammates.
Q. What do you believe you bring to your team? DK. A positive attitude and a good work ethic.
Q. What characteristics do you feel make for a good coach? DK. Never giving up on players, pushing them to the highest potential and staying positive.
Please follow and like us: