Player of the Week: Alexis Guzman
By Wayne E. Rivet
Staff Writer
Cheerleading offers Alexis Guzman a chance to show everyone the type of person she is.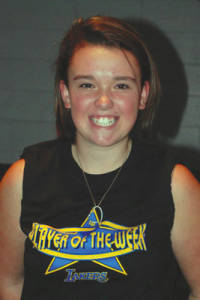 "Alexis is an asset to out team in many ways. She is a natural talent, however she is always working hard to improve her skills. Her dedication to her sport is amazing. She even took the initiative to run in a four-mile race over the summer to help raise funds for her team," Lake Region varsity cheerleading coach Nicole Muse. "Anytime she is asked to help, she is more than willing, and many times takes it upon herself to do things that need to be done without being asked. She is always pushing herself and her teammates to do their best. She is truly a pleasure to have as a cheerleader and I look forward to working with her for the next 2 1/2 years."
In recognition of her strong work ethic, determination, commitment and good sportsmanship, Alexis is this week's Boosters and Hancock Lumber "Player of the Week." Each week, a Lake Region athlete is recognized for his/her dedication (does more than what is asked), work ethic, coachability and academic good standing. Recipients receive a specially-designed t-shirt, sponsored by Hancock Lumber, and a $25 gift certificate to Salon at 616 in Casco.
The Guzman File
Name: Alexis Guzman
Year in School: Sophomore
Town: Bridgton
Parents: Rae-Ann and Nelson Guzman
School Activities/Sports: Play, musicals, cheering
Q. Why are sports important to you? Sports are important to me because it's a way for me to show everyone how much personality I have.
Q. What has sports taught you? Sports taught me that it is important to be nice to everyone and how to get people into school spirit.
Q. What is the biggest thrill you have experienced? My biggest thrill is there are so many cheerleaders this year, and that we have such an amazing skilled team.
Q. What has been the biggest disappointment? Some girls on the team give our coach a lot of attitude, and give attitude to the rest of the team. It really bugs me that this happened.
Q. What is your strength? I have a loud voice and call out cheers very loudly.
Q. What part of cheering do you need to improve upon? The whole team, including myself, needs to improve on not talking during the games and paying more attention.
Q. When you are having a bad day, how do you push yourself? I try to keep everyone's spirit up.
Q. What do you like most about your team? We can tell everyone everything and know we can trust them.
Q. What have you learned from your coach? No matter what is going on in life, it doesn't matter, be there for your team.
Q. What do you want to do in the future? I want to live in New York City and be either on stage or a photographer.
Please follow and like us: