Player of the Week: Adam Shane
By Wayne E. Rivet
Staff Writer
Adam Shane is a chess player who wears a helmet and shoulder pads.
"His technique and mental capabilities help him play the chess game that is football. He sets up plays and sees what is coming before it happens. He can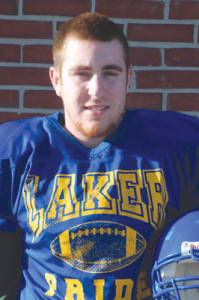 understand and master the subtle shades of a game plan to put our players in the best place to succeed," Lake Region head football coach Jason Simmons said. "Adam is one of our most athletic kids, which is a huge bonus for us on the line. He can play many different positions on the team, but his biggest value to the team is on the front lines. He has superior hand and footwork, which lets him compete with players that are much bigger and stronger than him."
Coach Simmons added, "Due to his self sacrifice and determination, Adam has led the team in our vastly improved running attack that helped one of our wingbacks to receive 'Player of the Week' honors in the Portland Press Herald, which is in large part due to our blocking."
In recognition of his strong work ethic, determination, commitment and good sportsmanship, Adam is this week's Boosters and Hancock Lumber "Player of the Week." Each week, a Lake Region athlete is recognized for his/her dedication (does more than what is asked), work ethic, coachability and academic good standing. Recipients receive a specially-designed t-shirt, sponsored by Hancock Lumber, and a $25 gift certificate to Salon at 616 in Casco.
The Shane File
Name: Adam Shane
Year in School: Senior
Town: Bridgton
Parents: Liz Shane and Randy Shane
School Activities/Sports: National Honor Society, football, baseball
Q. Why are sports important to you? They help prepare you for life and teach life lessons.
Q. What has sports taught you? Responsibility.
Q. What is the biggest thrill you've experienced? Winning 57-20 against Gray.
Q. What has been the biggest disappointment? Losing 28-13 to Cape Elizabeth.
Q. What is your strength? I am a good leader on the team, can motivate and also teach the younger players.
Q. What part of your game did you improve upon? I needed to keep my cool in emotional games.
Q. When you are having a bad game, how do you push yourself? I think back to my responsibilities in the game and try to stick to those.
Q. What do you like most about your team? How hard we all work every single day.
Q. What have you learned from your coach? First impressions mean so much, even in a football game.
Q. What do you want to do in the future? Attend college next fall and live a laid-back life.
Please follow and like us: