Plants plucked, a bit of hopeful news for Long Lake
By Christian Oren

LEA Milfoil Control Coordinator
The discovery of invasive, variable leaf milfoil in Long Lake earlier this month came as a devastating shock.
This aquatic weed has the potential to choke out large portions of Long Lake, disrupting recreation and destroying native habitats.
Lakes Environmental Association knew it had to act quickly if it wanted to prevent milfoil from taking over in Long Lake. With each passing day, boats were creating more fragments that could re-root and spread milfoil to new places throughout the lake.
Aware of the urgency, LEA's Milfoil Control Team suspended operations in the Songo River and Sebago Lake to tackle this new infestation, and began removal within a week of the discovery. The milfoil crew found nearly an acre of dense milfoil, primarily within the Four Season's Campground's small marina, but also scattered around the larger Mast Cove.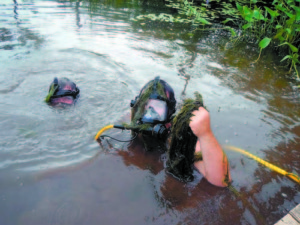 LEA employed benthic barriers and a Diver Assisted Suction Harvester (DASH) to remove the milfoil. Barriers are large mats laid over the milfoil to block sunlight, and the DASH is a boat equipped with a pump and suction hose — a harvester that removes plants after divers pull the milfoil from the lake bottom.
After two weeks of hard work, the vast majority of plants in Mast Cove were been removed. The milfoil is no longer growing to the surface or being chopped up by boats. The threat of fragments spreading to other areas of the lake has been nearly eliminated.
This area will be revisited in the fall to remove any remaining plants when the boats and docks are removed to allow easier access. Next year, the barriers will be removed, and any re-growth removed with the DASH.
A recent volunteer survey led by LEA had local people swimming and kayaking to identify any additional patches of milfoil in the southern basin of Long Lake. The survey was well attended and covered the areas where milfoil fragments had been seen floating from Mast Cove. Over seven miles of shoreline have been surveyed so far, and luckily, no additional milfoil has been found rooted in Long Lake.
LEA sees this as a good sign, hopefully meaning milfoil has not spread to any additional locations in the lake. However, 30 miles of shoreline remain to be surveyed in Long Lake. With the discovery in one section of the lake, every mile needs to be positively checked.
Now that Mast Cove has been infested, the area will have to be monitored for years. Complete eradication of invasive plants is incredibly difficult if not impossible. The plants are hardy, resistant to control, and identifying each cryptic plant in the 50 acres of the cove is a trying process.
Additional surveys will be planned in the fall and the summer of next year. LEA is hopeful that no additional plants will be found, and that the infestation in Mast Cove has been contained.
Volunteer and financial support is needed to initiate the surveys and maintain plant removal. Please contact Christian Oren (christian@leamaine.org) at LEA for more information on how to help.
Please follow and like us: