Planners rule Hotel Bridgton proposal incomplete; project location receives mixed reviews
By Wayne E. Rivet
Staff Writer
Justin McIver sees one way to grow Bridgton and provide local businesses with more visitor foot traffic is to build a hotel with a conference center that can accommodate 200 people.
Some agree.
"As a past member and past president of the Bridgton Economic Development Corporation, I have been party to many discussions in regards to what would benefit the local economy the most, and of the many things that would help strengthen Bridgton, a modern hotel facility and an event venue has always been at the top of the list," Patrick "Skip" Sullivan wrote in a letter to the Bridgton Planning Board. "Bridgton needs to rebuild its foot traffic in town, thereby strengthening the shops along Main Street. We have far too many empty storefronts and vacant spaces in Bridgton to consider the town healthy…I think the benefits far outweigh the concerns of the few and would lead to a stronger Bridgton going forward."
Bill Chalmers wrote, "Through my business experience, Chalmers and NAHGA have the need for housing of business guests. Many choose to find lodging in Portland or North Conway. It is concerning when we are trying to promote our area and business in a wonderful tourist area, but can't find appropriate lodging."
Some disagree.
"Suddenly, the quiet neighborhood with a small daytime business on Bacon Street may turn into a 24-hour business with car traffic, deliveries and trash removal…These quiet streets, home to families and elders, will be disrupted by noise, lights and traffic…I am a Bridgton taxpayer and understand the need to increase the tax base and create jobs…I value the small town that is Bridgton…I believe the development of the 'Bridgton Hotel' in its proposed location will be at the expense of the town, disrupting the harmony of the downtown residential neighborhood and town beach we all enjoy," wrote Laura Cleveland.
Tom Smith owns a four-unit building on Kennard Street and wrote, "This project will totally change the character of this classic New England residential neighborhood of mostly one and one and a half story homes. Two three-story structures and parking lots will not fit harmoniously here…I do not oppose the development of the old Saunders Mill. However, the proposed development is totally out of character for the neighborhood."
The lower level Bridgton Town Office meeting room was filled to near capacity Tuesday night as the planning board was prepared to consider McIver's proposal of building a 68-room hotel with a pool, fitness center and banquet hall on the 2.5-acre site of the former Saunders Mill situated on Bacon and Kennard Streets.
However, planners pumped the brakes on reviewing the project because members ruled the application was "incomplete." In board members' eyes, missing information included: description of existing soil conditions; questions regarding setbacks from Stevens Brook; evidence of financial and technical capacity of the owner (McIver) "given the size of this project," planner Deb Brusini pointed out; concerns by department heads and the police chief regarding traffic (a study is likely needed); and is there adequate water available to supply the facility and parking to accommodate overflow due to large gatherings at the banquet center.
Planner Dee Miller noted that since the proposed facility is close to the brook, the project would fall under the town's Shoreland Zoning Ordinance.
Planners voted 5-0 that the application was incomplete, and instructed presenter Michael Tadema-Wielandt of Terradyn Consultants, representing McIver, "to go back and fill in the blanks." Once the additional information is provided to the board, the project will be placed on an upcoming agenda.
Board Chairman Steve Collins outlined "the process" to fairly judge the application. The board can hold a site walk, as well as schedule a public hearing — both likely scenarios due to the high level of public interest on this "hot button issue."
Collins reminded those in attendance that the board will judge the proposal based on a lengthy Site Plan Review performance standard list, not on emotions.
"If the project meets the Site Plan Review Ordinance, we have to approve it. If it can't, we deny it. It's that simple," Collins said.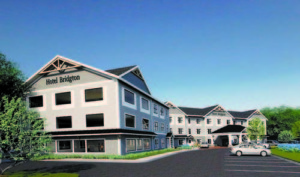 Rather than close the meeting, Collins opted to allow McIver and Tadema-Wielandt to take 15 to 20 minutes to outline the proposed Hotel Bridgton.
Collins then allotted the same amount of time for the public to make "brief" comments. The chairman noted that planners had a packet of 29 letters, all in support of the project, and the town will scan and upload them to the town's website.
Several people noted that the packet also included letters opposing the project, to which Collins quickly apologized for his misstatement. One resident suggested that all pertinent documents regarding the proposed hotel be uploaded to the town's website enabling the public the opportunity to closely review the plan.
The proposal
Justin McIver is passionate and driven to make Bridgton — his hometown — "the best it can be."
He sees construction of a hotel as another major piece in the reshaping of Bridgton and a way to grow the local economy.
The plan calls for a three-story, two-building facility. One building, which would be constructed as part of Phase 1, would cover 28,250 square feet. It would contain 60 guest rooms, a café located on the first floor and to the rear of the structure. There will also be a sunroom leading to an outdoor patio outfitted with lounge chairs, tables and a gas fireplace.
Phase 2 calls for a 12,000 square-foot structure that will include eight additional guestrooms, an indoor pool and fitness center, and a banquet center that could accommodate up to 200 guests.
Other notable features include:
87 parking spaces; and a nine-space parking area off Bacon Street for employees
Vehicle access to the site via both Bacon and Kennard Streets
Stevens Brook Trail will be upgraded to include bollard lights for wayfinding and two seating areas will be created, all accessible to the public
Hotel signs will be installed at both Bacon and Kennard Street entrances, as well as at the Main and Bacon Street intersection
The facility will be served by the Bridgton Water District; and the project will be served entirely or partially by the town's public sewer system. Test pits have been performed and onsite wastewater disposal system has been preliminary designed
Dumpster onsite for solid waste disposal; emptied regularly by a licensed, private hauler
Pole-mounted LED fixtures
Developers noted that the proposed facility will only create approximately 1,454 square feet of new impervious surface area.
Although planners were instructed by Collins to refrain from asking questions — saving them for actual deliberation and review of the project — developers were asked how they would address parking overflow when the hotel is hosting special events like conferences or weddings? Some neighbors feared limited parking spaces at Highland Lake Beach area would be used.
Developers said offsite parking would be created on Nulty Street with hotel guests either walking to the facility or being transported via shuttlebus or valet.
Planner Ken Gibbs said that piece should be included as part of the application.
As for lighting, developers said the "lowest level of light" that keeps guests safe while also respecting the neighborhood would be used.
The construction timeline would be: Phase 1 begins in the summer or fall of 2019 with completion expected by summer 2020; as for Phase 2, developers will seek an extension of up to 10 years to complete the project.
Does Bridgton need a hotel?
Bridgton is currently dotted with small motels and bed and breakfast establishments, but lacks an "events venue" that could host large conferences or special events, such as weddings.
Would it be feasible to open a Hotel Bridgton, as Justin McIver envisions?
A feasibility study conducted in 2014 by PKF Consulting of Boston, Mass. for the Bridgton Economic Development Corporation says "yes."
The consulting group looked at the existing lodging market both locally and just outside of Bridgton (Windham and North Conway), made a site visit, conducted interviews with town officials, hotel brand representatives and business community members and completed market research.
Their finding, "Based on our market analysis, we are of the opinion that there is sufficient demand to support further consideration of a proposed hotel in Bridgton. Our conclusions are based primarily on the lack of existing quality hotel rooms in Bridgton, historical performance of the regional lodging market in nearby North Conway, and positive feedback from various demand generators in the market area."
The consultant recommended the proposed hotel offer 65 guestrooms (positioned to capture corporate, group and leisure demand), 2,400 to 3,000 square feet of meeting/banquet space, fitness center, indoor pool and complimentary wireless Internet access and continental breakfast.
The report noted that Bridgton has two meeting venues — Highland Lake Resort (seating space for about 70 people) and the current Big Dog Sports Bar & Grill, adjacent to Pleasant Mountain Inn (private dining room with seating capacity of about 50).
The report does not include the new Bridgton Highlands Country Club clubhouse. The facility, however, is closed during the winter.
Annual hotel occupancy rate was projected at 59%.
With plenty of available locations across Bridgton, why did McIver target the old dowel mill site, which has numerous residential homes within a stone's throw?
For one, the consultants noted, "Hotel sites closer to the town center would be more attractive than hotel sites that are further from the town center due to the former's proximity to service amenities (such as restaurants, retail and entertainment venues) and ease to attract corporate transient clientele."
Kennard Street resident Tom Smith, however, feels other sites are more suitable than placing the facility near an established residential neighborhood.
One resident suggested a vacant site near the Post Office or the former Bridgton Memorial School. While town officials remain in negotiations with SAD 61 regarding the old school, the school system would likely balk at a private, commercial venture there.
What people said:
Here's a sampling of public comments regarding the project (also see this week's Opinion Page in Section B for letters to the editor on this topic):
Written comments to the Planning Board:
Angela Thompson, lifelong resident, "…New business is good for the town. People are scared of change. No, I don't want a Windham. I believe we can keep a small cozy town feel and still grow."
Dan Vail, "I feel that for Bridgton to pass on such an opportunity would be a mistake. From a local view, a venue of the proposed project has many positive advantages for Bridgton. Most importantly, the revenue that is generated from this venue will keep more of those dollars local. That in itself is a win for Bridgton."
Don Campos, "As a Bridgton homeowner and taxpayer, I see this as a great opportunity to welcome tourist revenue from people that would otherwise look toward North Conway…Instead of saying, 'You can't get there from here,' if there was an upscale facility in town for people to stay at you could say, 'You can get there from here!'
Walter Shaw Jr., "Bridgton has been marketing itself to increase tourism. It is clear that an important aspect of venue choices by tourists, corporations and civic groups is an establishment like the hotel proposal that can provide an array of amenities to complement the natural wonders of the Bridgton countryside. One of the other important needs that exist in Bridgton is the lack of suitable locations for wedding receptions, retirement and anniversary parties and other larger functions. The proposed hotel would answer this need and keep revenue and taxes here."
Jacquie Newton, property owner for 40 years, "…Our friends have always stayed in North Conway because there was no place near us that was nice or that had a pool. That being said, if you stay in North Conway, you shop in North Conway and you eat in North Conway. This project will help all merchants in town. Isn't that what you want? If local merchants do well, more will come and possibly renovate other run-down properties or rent/buy empty buildings that are such an eye sore. This is a win for everyone."
Jimmy Burke and Joan Wilson, restaurant owners, "Many times, we hear from people who visit Bridgton and without hesitation, the comment is always, 'There is nowhere to stay!'…We believe this will be a catalyst for downtown business growth, as well as job creator and would bring vibrancy to our downtown."
Richard Bader, local physical therapist, feels the hotel would likely be a "boon to the town," but would like to see it in a different location, fearing it could "take away from our greatest asset — the town beach."
Sue Hatch, born and raised here since 1948, feels there is a need for "balance" between business growth and avoiding "spoiling what draws people here."
Charles Gionet, who lives on Kennard Street, fears widening of the roadway would be devastating to property owners. He pulled out a measuring tape and visually showed those in attendance that any widening would bring the roadway "right up to my porch." He feels a hotel is better suited to be located on Route 302, not near a residential neighborhood.
Jason Ziminsky, a Kennard Street resident, would likely sell his home if a hotel were located nearby, fearing for the safety of his children with the likelihood of increased traffic. "A hotel, yes. It's a good idea. But, don't place it where there are so many residences around it."
Tom Stone has mixed emotions about the project. He is especially concerned that the hotel is close to the brook (25 feet), which feeds Long Lake.
As Chairman Collins closed the discussion, he thanked all in attendance for their interest and "civility" when making points about the application.
Please follow and like us: