Phyllis M. Warren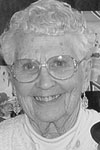 WINDHAM — Phyllis Marie Norton Warren, 93, of 196 North High Street, Bridgton, Maine and more recently of Casco Residential Facility and Ledgewood Manor, Windham, died Saturday, April 23, 2011. Phyllis was born in Sebago, June 23, 1917 to Alvin Norton and Myrtle Foster Norton Graffam and was predeceased by her husband, Carleton Rue Warren, in 1981 after 45 years of marriage. She is survived by her son William and wife Beverley of Gorham, two grandchildren, Mark Warren and friend Elisa Farina of Coral Springs, Florida and Amy Warren Bacon and her husband Russell of Windham; four great- grandchildren, Shane Bacon and Emelia Bacon Smith and husband Kyle, Cassandra Warren and Joshua Warren; great-great-grandson Jeremiah Smith; sisters Gertrude Graffam Cole of Bridgton and Faye Graffam Shepherd and her husband George (Buck) of Dover, Oklahoma; her close nephew Gordon (Gene) Stuart of Harrison, and 93 nieces and nephews.
She was predeceased by her parents and three siblings, Dorothy Norton Stuart of Harrison; Alice Norton Sanborn of Standish; Harold Graffam Jr. of Bridgton. She lived her childhood through grammar school in Sebago Lake Center with her parents and sister Dorothy and then with her beloved grand- parents, Milledge and Martha Foster until she joined her mother in Bridgton to attend Bridgton High School. She and her sister Dorothy loved life and dancing, often taking in the Big Star Bands like Benny Goodman at Old Orchard Pier. In her junior year of high school she was crowned "Miss Bridgton." She and Carleton were married following high school and they spent their working years together at Warren's Market, first with Carleton's father Rue L. Warren, then his mother Grace E. Warren and last with his brother Merton. During their early married years Phyllis worked as a seam- stress and summer camp cook at Camp Millbrook and Moose Trail Lodge. After building their camp on Moose Pond in 1959, the family gathering place for the summer was at "The Point." She loved her family and was always pleased when the kids were coming for the weekend or there was a family event — Fourth of July, birthdays, and the annual Clambake. The grandchildren knew it was swimming time when "Gram" had the floating bottles out for the swimming area. Phyllis and Carleton had many years of fishing on Moosehead Lake as well as on Sebago and Moose Pond with friends and family. Snowmobiling became a past-time for her and she rode many miles with friends and her grandchildren, Mark and Amy. She loved bird-watching and was an active deer and rabbit hunter with her sister, Gertrude. Phyllis was a leader of the exercise group, the Jumping Janes, for at least 25 years. Highlights of traveling were trips to the Holy Land led by Reverend John Swanson; to Donegal, Ireland with her family, where she met seventh cousins from her Grandfather Foster's family; to Prince Edward Isle to celebrate her 85th birthday and visiting her sister Faye and family in Oklahoma. She loved her church family and served the First Congregational Church faithfully as a member, choir member, kitchen crew member, Christmas tree organizer, and clerk for annual meeting — her love for the music never waned and she sang all the Christmas Carols from memory with the choir who visited her in her home in 2010. Phyllis was a life-member of the Order of the Oriental Eastern Star in Bridgton serving in all the chairs and was also a member of The White Shrine.
Phyllis requested her funeral service be held at the First Congregational Church. The service is scheduled for July 6, 2011 at 10:30 a.m., with a reception to follow in the church vestry. Evening visiting hours will be held on July 5 from 6 to 8 p.m. at Raymond-Wentworth Funeral Home, 8 Elm St., Bridgton. Donations may be made in her memory to the Building Fund, First Congregational Church of Bridgton, P. O. Box 243, Bridgton, Maine 04009 or to the Charity Organization of your choice.
Online condolences may be shared with her family at www.chandlerfunerals.com
Please follow and like us: