Philip R. Burnell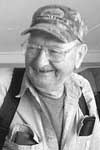 FRYEBURG — Philip R. Burnell, 79, passed peacefully in his sleep Thursday, Dec. 22, 2011. He was born in Brownfield, May 3, 1932, one of eight children of Bernice (Johnson) and Millard Burnell.
Phil loved hunting and fishing and the outdoors in general, but especially his family and the legacy he left behind. He was famous for Grampa's "beef jerky" and "dump cake." He never thought of himself as retired, just self-employed.
Phil is survived by his children, Ralph of Waterford, Russell and Childre of Fryeburg, Carole and Dan of New Durham, N.H.; seven grandchildren; six great-grandchildren; one sister, Thelma Lowell of Brownfield; three brothers, Keith and his wife Doris of Brownfield, Gene (Beetle) and his wife Theresa of Brownfield, Horace and his wife Charlotte of Fryeburg; several brothers-in-law and sisters-in-law, nieces and nephews.
He is predeceased by his parents, his first wife Anna (Pandora) Burnell, his second wife Betty (Brown), brothers Millard, Jr. (Mitt), Norman and Wallace.
A celebration of Phil's life will be held at a later date after the holidays. In lieu of flowers the family has requested donations be made to Fryeburg Fish & Game in his memory. Arrangements are made with Wood Funeral Home. Online condolences may be expressed to the family at www.woodfuneralhome.org
Please follow and like us: