Peter J. Kolofsky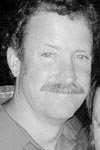 SEBAGO — Peter John Kolofsky, 46, of Hogfat Hill Road, Sebago died on Nov. 5, 2011 doing what he loved.
He was born in Worcester, Mass. the son of Andrew and Mary Kolofsky, and grew up in Rutland, Mass.
He is survived by his wife Lisa (Furtado) Kolofsky, his daughter Maria, and his son Thomas, all of Sebago. He also leaves his mother, Mary (Schnettler) Kolofsky; his brothers, Steve and Chris Kolofsky, both of Rutland, Mass.; his sister, Betty Muir, of Rutland, Mass.; and several nieces and nephews.
He was predeceased by his father, Andrew Kolofsky.
Peter graduated from Worcester Vocational Technical High School and Washington County Vocational Technical Institute in Calais, where he studied wood harvesting. Peter loved the woods and spent a great deal of his life there. He worked as a logger (his passion), excavator operator and a commercial fisherman. He was an avid outdoorsman, and enjoyed his family and friends more than life itself.
Visiting hours and a Celebration of his Life will be held on Thursday, Nov. 10, from 6 to 8 p.m. at the Watson, Neal & York Funeral Home, 71 Maple Street, Cornish. An additional time of visitation will be on Friday, Nov. 11, from 12 to 2 p.m. at the funeral home in Cornish. A Mass of Christian Burial will be on Friday, Nov. 11, at 3 p.m. at St. Joseph Catholic Church, 225 South High Street, Bridgton.
In lieu of flowers, memorial donations may be made to The Kolofsky Memorial Fund at any TD Bank branch.
Please follow and like us: