Personal trainer Greg Johnson — He is one of the world's best
By Wayne E. Rivet
Staff Writer
For as long as he can remember, Greg Johnson has learned and seen the importance of helping others.
His parents, Cathy Munroe and Ron Johnson, were living examples for him to watch.
Mom worked at Mercy Hospital in Portland and also volunteered for Sebago Rescue for over 15 years.
Dad is a longtime Lions Club member, who has served in almost every position the group has, including International Director.
"Since I was born, they have been helping people through their jobs and community service," Greg said. "I now feel blessed to be able to help people in my own way."
His "way" is guiding, encouraging and pushing people from all walks of life toward a healthier being. The greatest compliments Greg may receive as a personal trainer likely come from clients, who overcome obstacles and achieve their goals through his enthusiasm and energetic approach.
Recently, however, the 1997 Lake Region graduate landed international recognition for his work. Out of 1,000 nominations from 49 countries, Greg was one of four Americans to be selected a Top 10 finalist in the 2015 Life Fitness Trainer to Watch award. He emerged as this year's top personal trainer, and received the award Oct. 30 in Barcelona, Spain.
Greg rose above the other trainer finalists, all of whom demonstrated their elite training skills and passion for fitness, at the Life Fitness Personal Trainers to Watch live judging event competition.
Finalists were selected based on personal values, innovative training philosophies, education and experience. Judges included experts from Life Fitness and its educational arm, Life Fitness Academy, as well as the International Confederation of Registers for Exercise Professionals (ICREPs), EuropeActive, American Council on Exercise (ACE) and past competition winners.
The top 10 finalists competed in the program's day-long live judging event, where they were evaluated on their ability to motivate, praise and collaborate with a client, as well as enhance the workout experience using the Life Fitness SYNRGY BlueSky outdoor training system.
"I'm truly honored to be among this collection of talented and passionate personal trainers, let alone to have been named the international winner," Greg said. "Personal training improves clients' lives by revitalizing their health and inspiring positive change. I wouldn't be in this position today without the support of my family, the trust of my clients and support from companies like Life Fitness who recognize the value of our profession."
Greg is the owner of Varimax Fitness and lead trainer of FitGolf in Sacramento, Calif.
Using fitness as a driver to form positive life changes, Greg's motivation is to help people be more healthy and fit, as well as happier and healthier in all aspects of their lives.
"Greg's accomplishments are an inspiration to his clients, his peers and his industry," said Chris Clawson, Life Fitness president. "He embodies the kind of strength, determination and humility that every personal trainer should strive for, and we are proud to name Greg the 2015 Life Fitness Personal Trainers to Watch winner."
"My goal is to help people achieve their goals in health, fitness, appearance, and performance. I do so by keeping up with the most up-to-date science and research-based information in the field of health, fitness, and nutrition," Greg added. "I'm a lifelong student, and I feel fortunate to help pass that information on to others to better enjoy their own lives."
Greg has worked in the field of fitness and physical therapy of over 12 years, working with all levels of fitness from rehabilitation to high-level athletic sports performance. Greg holds a bachelor's degree in Fitness and Rehabilitation from Plymouth State College, with minors in Health and Wellness, as well as Coaching. He received his master's degree of Kinesiology from the University of California Penn, with concentrations in Performance Enhancement and Injury Prevention. Greg also holds a membership with the National Strength and Conditioning Association.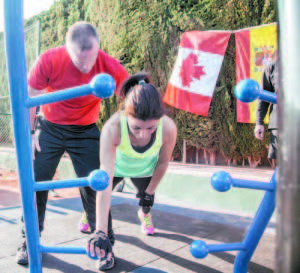 Greg's passion for fitness and health has always driven his ambitions and extends into his own life. He participated in organized football for 14 years, playing for the Lakers during his high school days. In his spare time, he enjoys training for triathlons, playing golf, outdoor activities such as hiking and mountaineering, and maintaining his own strength and conditioning.
The News reached Greg via e-mail this week to talk about his award and his work:
BN. How did you decide to pursue a career in physical fitness/personal training?
GJ. I grew up in the Lake Region area being active and playing sports my whole life, and I knew I wanted a career that had to do with an active lifestyle. What started as something for fun became a real passion. I realized that I could really help people be healthier and happier.
BN. Upon your graduation from college, what happened next (from that point to your present head trainer position at Varimax Fitness, how does a Laker land in Sacramento, Calif.)?
GJ. After attending Plymouth State College, I spent some time working at Back in Motion Physical Therapy in South Portland. Working with knowledgeable physical therapists to start my career was probably one of the best attributes I have. Understanding how the body works from a rehabilitation and pre-habilitation standpoint. After four years on living in Portland, I decided on a change. Sacramento was great because it had the seasons of Maine, but more controlled. If I wanted snow, mountains and oceans are within a 90-minute drive, yet I can come back to mild temperatures the same day. (And lets face it, anyone who knows me, knows I'm a diehard Oakland Raiders fan. I bought season tickets the day I moved out here.)
After moving to California, I started working for East Sacramento Physical Therapy, and Fitgolf Performance Center, which I still work for almost 10 years later. In January 2012, I opened Varimax Fitness as owner and trainer. I felt most personal training jobs I held previously focused too much on money, and not enough on client results and experience. I pride myself on getting people the best results, and educating them on living a happier, healthier life, and sometimes that means well after they stop seeing me. It's about developing a lasting relationship and developing trust with each person.
BN. What are the biggest challenges of being a personal trainer?
GJ. There is a lot of misinformation out there right now when it comes to health and fitness. What works for one, usually doesn't work for all. We also seem to be in an "extremist" culture where people want immediate results, no matter what the consequences. The biggest challenge is getting people to understand the proper and safe way to do things to allow for not only short-term results but long-term and lasting results. That usually involves lifestyle changes, and are maintainable, not just short-term diets and overly aggressive workouts.
BN. Greatest rewards?
GJ. The greatest rewards are seeing the joy and happiness on someone's face when they reach and even exceed their goal that's personal to them, to see someone pain-free for the first time in years, to see someone lose weight and feel good doing it, or to see someone do something they've never done, and even surprise themselves. It's awesome.
BN. Today, people are striving to live healthier lifestyles. What are some of the keys to reach that goal, as you would tell your clients?
GJ. I think the biggest keys to living a happier healthier lifestyle is moderation, as well as understanding where you are, and where you want to be. The reason people have a hard time sticking with a diet, or a workout regimen, is that they start out too fast or use extreme methods that are very difficult to maintain over time. Don't be afraid to start slow and make small adjustments. Simple steps. It's the small things that when added together create compound effects. For example, for general fat loss, start with increasing your water consumption. Most people don't hydrate enough, and everything works better when you're hydrated. (Work up to an ounce of water for every two pounds of body weight. If I weigh 150 pounds, I need 75 ounces of water a day). Slightly decrease your overall calorie intake, and increase your activity level. Each one of those may depend on what people are currently doing, but making smaller adjustments overtime will have a better chance of becoming more sustainable.
BN. What do you do personally to follow this lifestyle (a few examples)?
GJ. I think the biggest thing to understand is that personal trainers are still normal people. I assure you, I have my weaknesses. At times when I'm busy, I just try to follow my own advice. Even a half hour or a 20-minute workout a few days a week is better than no workouts at all. If I want to have a piece of cake or a big holiday meal, I just try to make sure I'm good the rest of that week. Again, it's moderation.
BN. Regarding the award, you said in a TV interview it is important to "keep learning" in the field of personal training. Any specific lessons you've learned from either conferences or elsewhere that you strongly incorporate in your training?
GJ. Honestly, I think the "Never stop learning" is the biggest lesson I've learned, and that doesn't mean just in fitness. I went back to earn my master's degree. I belong to a mastermind group. I try to not only read fitness and nutrition books and articles, but business, motivation, self development and entrepreneur books. A lot of times, you can find "best practices" from other fields of studies, and bring them back to your own.
BN. Finally, a couple of comments about receiving such a distinction?
GJ. To even be considered was an extreme honor. It's been a few weeks now, and I'm still in a little bit of disbelief. To start in a small town like Sebago, and to be at a point where I'm considered one of the best in the world, is extremely humbling.
BN. How often do you return home?
GJ. My whole family still lives in New England, and I still keep in touch with lifelong friends that I made while attending Sebago Elementary and Lake Region High School. I try to make it back to Maine at least once a year.
BN. Your parents played a big role in who you are today.
GJ. I owe all of my success to my parents, who both still reside in Sebago. Despite not wanting to see me leave, they've supported every decision I've ever made. Both of my parents also are a big influence in what I do. I'm also following my father's and grandfather's footsteps and am currently the president of the Fort Sutter Lions Club, here in Sacramento. So to say my parents were an amazing influence would be an understatement.
Please follow and like us: