Patti J. McCabe, 45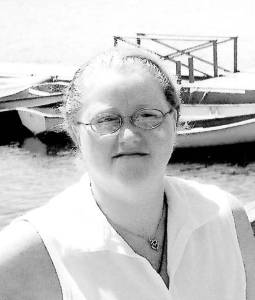 NORWAY — Patti Julia McCabe, 45, of Waterford, unexpectedly passed away on Wednesday, Sept. 12, 2012 at Stephens Memorial Hospital.
The redheaded and freckled daughter of James A. McCabe and Lucy M. (Varney) McCabe, Patti was born on May 12, 1967 in Norway.
Patti spent most of her life in the area and was married to Richard E. Barker of Waterford for 15 years, whom she had three children with: Elizabeth, Richard and Julia. She met her best friend, David Miller, in 2001 and in 2005 the two of them welcomed their daughter, Sophie, into the world.
Patti loved helping and taking care of people. She worked as a CNA at Bridgton Healthcare for eight years and later on was a part of the Spurwink Program in Casco, where her loving, motherly nature that came so natural to her, showed through. Patti's love of children, as well as her wish to make a difference in everyone's life, no matter how small it may be, led her to open up her own in-home daycare for several years. "Pat Pat's Place" as the daycare was known, was one of Patti's greatest moments in life.
Patti was compassionate, sweet and a kindhearted woman. She had a generous soul and was always willing to help someone out. She had a great sense of humor and was a storyteller, often making those around her laugh when she told a story — whether it be fact or fiction. Patti enjoyed the simple things in life like, the colors of the leaves during the autumn season, the ocean, crocheting and knitting, sewing, Christmas, cooking, Ken's Kove and Ocean Pearl, and hours of laughter that would take place during Sunday dinner and game night. But most of all, Patti treasured and cherished the time she spent with her four children and two grandchildren. She was always talking about them and how proud she was of her kids and how excited she had been when she was told she was going to be a nana. Patti loved her children with all her heart and she made sure that each of them knew it.
Patti is survived by her daughter, Elizabeth Barker of Waterford; son, Richard L. Barker of Waterford; daughter, Julia G. Barker of Auburn; daughter, Sophie A. Miller of Waterford; a granddaughter and a grandson; her companion, David Miller; father, James A. McCabe of Stockholm; seven sisters, Thelma, Luann, Delilah, Cheryl, Laura, Heather and Mindy; three brothers, Jesse, Charlie and John; many nieces, nephews, great-nieces and great-nephews, who she loved like her own kids; and countless friends. Patti touched the lives of many and she will be greatly missed.
Patti is predeceased by her grandparents, Harold and Beryl Varney; mother, Lucy McCabe; two nephews.
Family and friends are invited to attend visiting hours on Friday, Sept. 21 from noon to 1 p.m. with a service to follow at 1 p.m. at Oxford Hills and Weston Funeral Services, 1037 Main Street, Route 26, Oxford. The family welcomes all to celebrate Patti's life. There will also be a reception following the service at 24 Christopher Lane in North Bridgton. All are welcome.
In lieu of flowers, the family has set up a fund for her children as Patti's passing was unexpected and this account is set up for the financial burden that has been left upon her children. Donations can be made to Elizabeth Barker, McCabe Memorial Fund, at any TD Bank location.
Online condolences may be expressed to the family at www.oxfordhillsfuneralservices.com
Please follow and like us: