Patrick J. Cadigan
LOVELL — Patrick J. "Packy" Cadigan of Center Lovell passed away Sunday, Aug. 29, 2010.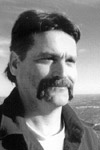 He was born in Portland, May 6, 1958, the son of George and Mary Murphy Cadigan, Sr., and attended South Portland and Fryeburg schools. He worked in the construction and landscaping business. Patrick enjoyed fishing, hunting, scuba diving and motorcycling. 
He is survived by the love of his life Mary Perkins of Center Lovell; brother, Skip Cadigan of Cumberland; stepmother, Jerry Cadigan; and his aunt along with many friends.  
There will be a celebration of his life Thursday, Sept. 2, 2010 from 1 to 3 p.m. at Packy's Garage, 24 Kezar Forest Lane, Center Lovell. Arrangements are made with Wood Funeral Home, Fryeburg. Online condolences may be expressed to the family at www.woodfuneralhome.org
Please follow and like us: