Patrick G. Rossi
RAYMOND — Patrick G. Rossi, formerly of Windham, died Sept. 9, 2010 surrounded by loved ones at his daughter's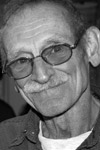 home in Raymond.
Pat graduated from Windham High School in 1969. He was very proud of his cross-country running accomplishments while at WHS, and he was also recognized for his drumming talents participating in a band named "The Saints" with his brothers Nick and Peter Rossi.
After graduation, Pat went on to proudly serve in the Air Force. Stationed in Thailand during the Vietnam War, he earned the rank of Sergeant before returning to Loring Air Force Base, where he fulfilled his commitment and was honorably discharged.
Pat spent many years working as a grade foreman for various road construction companies, including his grandfather's company, Frank Rossi Construction. In later years, Pat made his career as a sawfiler for Hancock Lumber, Olsen Saw in Westbrook and later Fitzgerald Bandsaw in Windham.
He will be remembered for his avid interest in various hobbies and collections including gun collecting, rock hounding, aquariums, trains, war paraphernalia, and music, particularly the Beatles. Pat was also an outdoor enthusiast enjoying hunting, fishing, camping, landscaping, and spending time with his beloved shelties.
Patrick is predeceased by his father Frank Newton Rossi of Windham.
He is survived by his daughter Teresa and two granddaughters; his mother Joyce Rossi Gammon of Dixfield; two brothers, Nick Rossi of Casco and Peter Rossi of Bridgton; and a sister, Lori Marier of Dubai. Patrick will be lovingly remembered by many close friends including his best friend, Duke.
A service will be held Thursday, Sept. 16, 2010 at 1 p.m. at Dolby Funeral Chapel, 434 River Road, South Windham. Immediately following will be a graveside service at Smith Cemetery near Foster's Corner, Route 202, Windham.
In lieu of flowers, donations may be made to a trust in Patrick's name, made payable to Norway Savings bank, c/o Dolby Funeral Chapel, P.O. Box 117, South Windham, ME 04082.
Please follow and like us: