Out with the old, in with the new: Commercial building planned for Sportshaus lot
By Gail Geraghty
Staff Writer
Tuesday's demolition of the Sportshaus building at 103 Main Street in downtown Bridgton will pave the way for construction of a new two-story commercial building by Bridgton's own man with a mission, Main Eco Homes owner Justin McIver.
"My goal is to build something that will blend in nicely with other buildings on Main Street, with old-fashioned shutters and other older architectural features," McIver said Monday. The look will be similar to the professional office building he completed over a year ago on Depot Street.
The reason he decided to take the building down now is because "It's a lot easier to market it as a vacant lot," and he plans to begin marketing it right away.
McIver foresees no problem finding tenants to lease the planned two-story building, which will have 4,000 square feet on each floor. "It's a great location, and I'm confident it will lease fairly quickly. I've had a lot of people asking me for Main Street space," and it doesn't get much better than the corner of Cottage and Main Streets, in the center of the downtown.
The interior space will be custom-built, with the potential for retail and/or offices on the ground floor, as well as several office spaces on the second floor. There will be 16 parking spaces in the rear of the building accessible on Cottage Street.
"The demand is there, for high-quality new construction, I've proven it again and again," said McIver, pointing to another of his projects, a professional office building on Portland Road that is now almost fully leased on both floors. The reason many storefronts are vacant on Main Street, unfortunately, he said, is because of the deteriorating conditions of the buildings. The older buildings also are not functional in the ways that are required by many businesses, he added.
He said it simply wasn't possible to save the building, located at the corner of Cottage and Main Streets. Soon after Sportshaus Ski & Sports Shop owners Phil and Marlise Libby contacted him in late spring to seek advice on renovating the building, it became clear that the extent of structural deterioration would have made such a project financially unfeasible.
The Libbys, who have their primary store location in West Bridgton, offered to sell the property to McIver, and the ownership transfer became official Oct. 31.
He hopes to be able to reuse some of the foundation stones around the site and "dress up" the trim work on the new building.
"It's going look real nice."
As soon as he has a tenant or tenants lined up, he said he will file a site plan review application with the Bridgton Planning Board, which will have final say over the plans.
The 103 Main Street building is described in the pictorial history of Bridgton as "one of the original old houses on Main Street in the Center Village." It was built by Reuben Ball, Jr. as a duplex home for his own and another family, the Gibsons, who operated an ice cream parlor in the front room.
Ownership passed on to other families, and in the early 1950s the building was purchased by John Cox and transformed into the Carry-All Gift Shop. In 1971 it became the Sportshaus when Capt. "Mo" and Heidi Needham took over the business. It has served as the summer headquarters for the Libby's Sportshaus Ski & Sports Shop since 1979.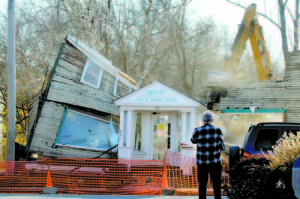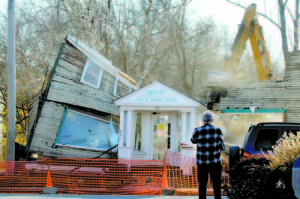 Please follow and like us: