Otis P. Fogg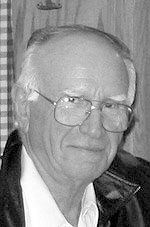 CONWAY, N.H. — Otis P. Fogg, 80, of Conway, N.H., formerly of Westbrook, passed away on Tuesday, March 27, 2012, at Maine Medical Center.
He was born in East Wynn, the son of Perley and Tessie Fogg. He was raised in Portland and graduated from Portland High School. He served in the U.S. Navy during the Korean War. Otis worked for Sebago Moc for 45 years before retiring.
He was an avid fisherman and hunter, and enjoyed gardening.
He was predeceased by his wife, Constance (McClure) Fogg in January this year.
Otis is survived by his sons, Stephen Thibeault of Sebago, Shaun Fogg of Conway, N.H., Derek Fogg of Sebago, Randy Fogg of Windham and Aaron Fogg of Bucksport; a daughter, Debra Verrill of Standish; 12 grandchildren and eight great-grandchildren.
A visiting hour was held from on Monday followed by a memorial service at 5 p.m. at Blais & Hay Funeral Home, 35 Church Street, Westbrook. For online condolences please go to blaisandhayfuneralhome.com
Please follow and like us: