One on One with…Ryan Holt about Nature Hostel project, another Naked & Afraid journey
By Wayne E. Rivet
Staff Writer
Ryan Holt proved last year he is neither afraid nor incapable of surviving the elements the Everglades with no food, water or clothing.
Now, he is set to take on a 40-day stint in the South African Bush as part of Discovery Channel's top-rated survival reality show, "Naked & Afraid XL."
The Harrison native just returned from shooting the new series, but is unable to reveal too many details about his latest adventure into the wild.
The News went "One on One with…" Ryan Holt this week regarding the upcoming survival series on the Discovery Channel, as well as his efforts to develop a Nature Hostel on his property in Roxbury (a short distance from Bethel).
BN. How did you decide to make another appearance on "Naked & Afraid?"
Ryan: Naked & Afraid XL is somewhat of an "All Stars" series. Because of my performance and ability to "Thrive" on my first challenge in the Florida Everglades (21 days), I was asked back for a chance to outdo myself, this time for 40 days in South Africa.
BN. What lessons did you learn from the first outing that you applied to this trip?
Ryan: It's 25% skill and 75% mental. Keeping your hands or your mind busy will make or break you. No one can sit around for 40 days and stare at a tree. Always keep yourself in the moment, nothing else matters except exactly where you are and what you have to do, not only to survive and get by, but to Thrive and live within the balance of your environment. When I'm out there, my mindset isn't '40 days left,' my mindset is 'this is my life, it could be for a week, months or eternity, make the best of it, take it to a whole other level and live with a smile.'
BN. Had you ever been to South Africa before? If not, how did you prepare yourself for this adventure?
Ryan: I had never been to South Africa before, but I had been preparing my whole life for this journey. To literally be stripped of everything and only left with the knowledge and skills you've attained since birth is rewarding and affirms that we are limitless with anything we put our intentions into. It was like a giant puzzle or playground that I needed to figure out and apply everything I know. I'm so grateful for these opportunities.
BN. If you can share anything about this adventure, please do so (special challenges)?
Ryan: On the challenge, there are six men and six women all returning from previous 21-day episodes. The personalities, group dynamics and drama always seem to outweigh the challenges of living off the land. I can't give it all away, but you won't want to miss this series. I made Maine proud and I might just scare them a little too...
BN. When will it air?
Ryan: There is a pre-show 'Who's Who' episode on Sunday, July 3 at 10 p.m. on the Discovery Channel. The premiere of the 40-day challenge is the following Sunday, July 10 at 10 p.m. This is a 10-episode series so you can see me thrive all summer!
BN. Let's talk about your Roxbury project. On your Nature Hostel website, you said you were 'lost' and had many 'unanswered questions' after leaving the military. Can you elaborate a little on the feelings you had once you left the U.S. Marines?
Ryan: After three tours to Iraq and Afghanistan, I could feel that there was more to life than war, more to life than fighting each other and executing orders for hidden agendas. I had a passion for helping humanity, not destroying it. I was proud of what it means to be a Marine, of how I conducted myself while upholding my oath yet, at the same time, I was ashamed for being part of the larger picture, an unnecessary war that only benefited the ones on top, behind closed doors. That was hard for me to process. I felt betrayed and lost. I wanted to experience the Raw Freedom America 'believes' we were all over there fighting for.
BN. To rediscover yourself, you decided to hike the Appalachian Trail, solo. How did you take on the name 'Yukon?'
Ryan: I was honorably discharged after having served eight years on Oct. 1, 2011. In the spring of 2012, I took a Greyhound bus to Georgia and hiked 2,200 miles home to Maine along the Appalachian Mountain range. I was given the trail name 'Yukon' after Yukon Cornelius from the classic Rudolf claymation movie. It took me nearly six months to complete (the hike) and I summited the greatest mountain in Maine, Mt. Katahdin, on Sept. 18, my 28th birthday.
BN. You also said on the website, you 'walked off the war.' How did the hike help, what did you realize about nature and yourself, and what inspired you to consider developing a Nature Hostel?
Ryan: I wasn't sure what I would find along the way, but the Appalachian Trail journey gave me a new direction, purpose and place. I began the trail solo, but quickly met dozens of other hikers who were all in some sort of transition in life. There was no chaos, no clutter, just peace and the sounds of nature. There was nothing but time to process my thoughts and what I had been through over the last eight years. It was as if I walked off the war and surrendered my past experiences, which no longer served a greater purpose in my life. I had met myself for the first time that day on top of Katahdin and felt a deeper connection to my natural surroundings than anything I had ever experienced. I felt reborn and I was inspired to share this medicine with everyone I crossed paths with. I was never coming down from this mountain. But how could I continue forward on these levels of peace, happiness and freedom? This is where the vision of The Human-Nature Hostel was given to me.
BN. You also mentioned that nature 'healed you,' 'taught you' and 'inspired you.' Any specifics you can share?
Ryan: We are not visitors in Nature, we are very much a part of it. The trail showed me that we are literally connected to everything and so much healing can come from clearing your mind by simply sitting in the middle of a forest or on a mountaintop. Sometimes, you need to disconnect (from society) to reconnect (to nature). The longer your stay in the wilderness, the more you will learn and heal. It gives you time to realize what is truly important in this life and that everything you have ever been seeking has been within you the entire time (and I'm not speaking of material desires).
BN. Your next step was the Nature Hostel. You spent time at Jack Mountain Bushcraft School. What attracted you to the program, what did you learn, and how will you apply it to your project?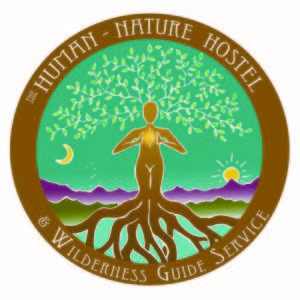 Ryan: I began looking into alternative uses for the GI Bill. I just couldn't see myself sitting in a classroom of a few hundred being lectured by a professor. This is when I found the Jack Mountain Bushcraft Survival & Guiding School. The schoolhouse is located in Northern Maine, just outside of Ashland. I was a student of the yearlong wilderness immersion program. I spent nine weeks learning and living off the land, shelter building, friction fires, medicinal and edible plants, nighttime navigation, canoeing, bushcraft cooking and crafting. In the winter, we embarked on a 36-day snowshoe expedition across the Boundary Waters of Northern Minnesota, pulling all our food and gear on nine-foot toboggans. Battling temperatures in the minus 50s and trekking through four feet of snow for 100 miles. I felt alive. I was interested in learning this knowledge as a way of life, not as a way of survival. It will only assist me in becoming a well-rounded Maine State Guide and I look forward to sharing these skills with others.
BN. When did you purchase the Roxbury property? How big is it? What about this property convinced you that it was the right spot for the Nature Hostel? What do you like most about it?
Ryan: I purchased 42 acres in Roxbury just a few months after I finished the Appalachian Trail (2,184 miles) in the fall of 2012. I knew I wanted land in Maine, near the AT and it had to have a water source. I think the piece of property found me because it's too perfect in every way. It sits on a dead end road at the base of two mountains (Black Mountain and Rumford White Cap), the AT is 10 miles away, the ITS-82 is my western property line, its a moose highway and has a year-round eight-foot-wide babbling brook that flows right through the middle of it. Synchronicity is a beautiful thing.
BN. How are you going about developing the Hostel? Biggest challenges, ultimate goal?
Ryan: The land and the hostel communal center are the two biggest pieces. Right now, I'm just working with what I've got and what I can afford. This summer, I'm finishing the 40-foot timber geodesic dome and from there I'd like to have a bunkhouse or convert the daylight walkout basement into accommodations. The ultimate goal is to create a sustainable nature retreat hostel and wilderness guide service. Catering to future Appalachian Trail hikers, domestic and international travelers to enjoy while their exploring the Southwestern Mountains of Maine. You can visit the website (www.humannaturehostel.net) for more information. It's all a work in progress.
BN. When will it be ready?
Ryan: I would like to be open for next summer, before the hikers make their way through Maine to Katahdin.
BN. The Warrior Project, what will it entail and what are your goals?
Ryan: The Wilderness Warrior Project is what I'm focusing on for the beginnings of my guide service. And, I hope to guide the first group of veterans on June 1, 2017. Pending donations, it is my intention for this to be cost-free for each veteran — travel expenses, food, classes and instructors. The Wilderness Warrior Project was created to assist veterans who may be struggling to find their way among the chaos. Using nature as a healing tool, it is my intention to help veterans rediscover the peace within the Warrior, guidance in the process of surrendering experiences which no longer serve a greater purpose and to provide them with a foundation for the life they deserve as they move forward. It's the war within ourselves we often struggle with most. Veterans will be paired up with someone they served with and guided along extended backpacking and canoeing trips while learning the four basics of survival and primitive living skills. This experience will give each of them the opportunity to decompress and share in the camaraderie with fellow warriors. We all know pharmaceuticals are not 'cures,' they only seem to drown or bury the pain. Alternative healing in the form of guided meditation, sweat lodges, yoga, massage and Nature will offer a much more affective way of healing our inner selves. Sometimes, all it takes is sitting around a fire on the mountain under a celestial starry night and reminiscing with a band of brothers and sisters. 100% of donations go toward the Wilderness Warriors Project and the expenses of each veteran's journey. Veterans have already paid enough, it is my intention for this to be a zero cost wilderness healing experience.
Please follow and like us: