O'Donnell talks values, taxes
By Dawn De Busk
Staff Writer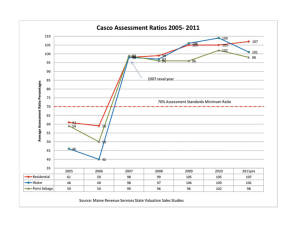 CASCO — John O'Donnell and his associates are happy to be out of Casco.
Still, he said he is proud that he stood up for the large majority of property owners when Casco followed through with the 2007 revaluation.
"Prior to the 2007 Casco revaluation, the tax distribution between residential and water properties was the most unfair I have seen in my 35-year career," O'Donnell said last week.
In April, by a vote of 3-2, the Casco Board of Selectmen awarded O'Donnell's firm a year-long property revaluation job as well as a five-year contract as the town's assessor. In May, following a public outcry by some citizens, the board rescinded its decision and awarded the job to another firm. At that meeting, when a new motion was on the table, a first-year selectman changed her vote, it was by a 3-2 vote that a different assessing company entered into an assessing and property-revaluation contract with the town.
The outcry can be attributed to the citizens' displeasure with O'Donnell and the 2007 Casco revaluation.
O'Donnell contends the changed vote was influenced by a very small but very vocal minority.
"When decisions are made under duress imposed by emotionally charged minorities it is often at the expense of the large majority," he said.
O'Donnell said he believes a silent majority of Casco taxpayers do not have any qualms with the revaluation finished by John E. O'Donnell and Associates, Inc.
"You don't hear from the people whose taxes went down," he said.
A small group of waterfront property owners took offense to the dramatic rise in their taxes — which is understandable, he said.
It is unfair to lump all waterfront property owners in with the group that protested the 2007 revaluation, he said. Almost all of the people of Casco handled the 2007 revaluation with class and dignity, he said.
The Maine Constitution calls for property taxes to be apportioned equally, based on value. Therefore, property should be assessed at, or around, the same percentage of value.
"Many people do not agree with the Maine constitutional requirement to base property taxes on value. Yet, assessors swear to uphold the Constitution," O'Donnell said.
He can point to the numbers to demonstrate that since the revaluation in 2007 through today, property classes in Casco have been assessed around the same value.
Casco's property classes are: Residential, waterfront, and Point Sebago.
With 35 years in the field under his belt, O'Donnell realizes that property values and taxes are two issues that bring out strong emotions in people.
"We don't rejoice in anyone paying more taxes. It is human nature to feel for them," O'Donnell said.
"Between the schools and the town, Casco taxes went up $1.1 million last year alone. This is spending not assessing. The assessor is the messenger via tax bills. Some want to shoot the messenger," he said.
In Casco, the total number of properties is 3,400. Of those parcels, there are 700 waterfront properties. Therefore, about 21 percent of the town's taxpayers own waterfront land, according to O'Donnell.
He estimates there were a few thousand residential property owners who saw lower tax bills after the revaluation job was completed.
"Remember after the 2007 revaluation, 80% of Casco residents got lower taxes. They had quietly lived with over-taxation for years," he said.
O'Donnell said in Casco, those landowners who enjoyed waterfront parcels did not realize how much lower their assessment ratio was compared to residential property. When the property values were re-adjusted, it wasn't an easy change to accept, he said.
"Casco waited way too long to equalize assessed values. When they did, the properties that were paying above their fair share saw large tax decreases. The properties that were under assessed saw large tax increases," he said.
An unrealistic expectation — which was touted during a citizen-driven petition that resulted in a voter-supported ballot item to conduct another property valuation — is that the Town of Casco would receive $1,000,000 back from the Maine State Department of Education.
"It will not happen. It was wrong to lead people to believe it would. The proponents of a new revaluation are ignoring that the cost shift to Lake Region towns is due to the passage of the Essential Programs and Services (EPS) school-funding model passed by the Maine State Legislature," O'Donnell said.
"They want to blame it on revaluation, and they are suggesting another revaluation will not solve the problem," he said.
State lawmakers must change the school-funding formula before rural schools receive more education funding from the state, he said.
"I have done 72 revaluations. I have done this conscientiously for 35 years. We have to work in good faith on behalf of all property owners," he said.
"We were loyal to Casco to the end. We were loyal. We did not want to walk out," he said.
Currently, the firm's client number totals 38, and includes the neighboring towns of Raymond, Naples, and Poland. O'Donnell and Associates has served Naples since 1978, when John's father operated the assessing business.
In the few weeks after Casco abruptly ended its contract with O'Donnell, the firm welcomed three new clients — the towns of Chelsea, Turner and Boothbay.
Please follow and like us: