Norine E. Thomas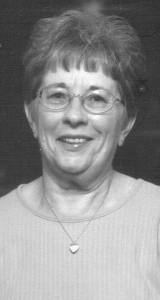 Meredith, N.H. — Norine Elizabeth Thomas, 70, of Meredith, N.H., passed away on Monday, Aug. 6, 2012. She was born in Bridgton on March 8, 1942, the daughter of Alton R. Gile Sr. and Mary Elizabeth Kenison Gile. She graduated from Bridgton High School in 1960. She had been employed at the Bridgton Knitting Mill for more than 30 years. She had also worked at True Engineering in Windham and did home care for the elderly. She enjoyed genealogy and spending time with her family. She was an avid walker and enjoyed ceramics and basket making. She was a very dedicated mother and will be fondly missed for her kind nature and willingness to lend a hand to anyone in need.
She is survived by her daughter, Lori Thomas of Gilmanton, N.H.; a brother, Alton Gile Jr. and his wife Gail of Harrison; nieces, Tricia Brooks of South Paris and Beth Rehmert of Harrison; a nephew, Samuel Gile and his wife Kristine of Portland; a great-niece; and three great-nephews.
Graveside services will be held on Monday, Aug. 13 at 11 a.m. at Forest Hills Cemetery in Bridgton, with a celebration gathering to follow at the Bridgton Community Center on Depot Street. In lieu of flowers donations may be made to the Association for Frontaltemporal Degeneration, Radnor Station Bldg. 2, Suite 320, 290 King of Prussia Road, Radnor, PA 19087, or the National Aphasia Association, 350 Seventh Avenue, Suite 902, New York, NY 10001.
Arrangements are under the direction of Chandler Funeral Homes & Cremation Service, 8 Elm St., Bridgton. Online condolences may be shared with her family at www.chandlerfunerals.com
Please follow and like us: