No upset as Lakers fall short of playoff bid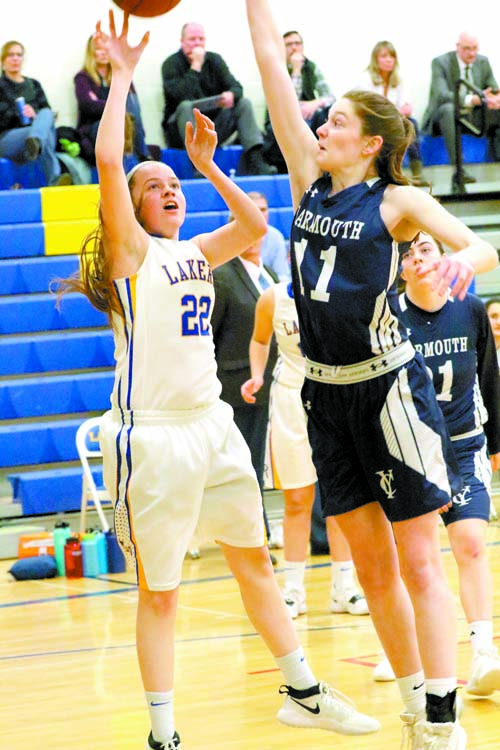 By Wayne E. Rivet
Staff Writer
Margaret McNeil nearly scored as many points as the Lady Lakers.
The sophomore guard knocked down four 3-pointers and finished with 18 points to lead Yarmouth (12-6) to a 40-20 victory over Lake Region (6-12) last Thursday.
The Clippers dashed the Lakers' hopes of springing an upset and crashing the Class B South playoff party by taking control of the game with a 10-2 run to end the third quarter. The Lakers whittled away at a double-digit deficit, cutting Yarmouth's lead to 18-12 on a baseline jumper by senior Brooke Harriman.
But, the Clips ended the threat as McNeil and fellow sophomore Calin McGonagle each drained 3-pointers.
LR lacked the firepower to keep pace with Yarmouth. They were 0-for-10 in the first quarter as Yarmouth built an 8-0 lead. Neither club shot the ball well in the second, yet Yarmouth retained an edge, 9-8. LR freshman Liz Smith worked hard inside the lane, reaching the foul line and making one of two foul shots, while also scoring on an offensive rebound.
Despite their shooting woes, the Lakers trailed just 17-8 at the half.
Unfortunately, there was no fantastic finish for Coach True's girls as the Lakers went scoreless over the first five minutes of the final period before Shauna Hancock ended the drought with a nifty scoop shot off the glass after driving past two defenders. She added a 3-pointer and finished the night with a team-best 10 points.
Harriman closed out her high school hoop career with 6 points, while Smith had 3 and Bella Russo 1.
Two other seniors making their final appearance in the blue and gold were guard Elena Re and forward Emily Lake.
Please follow and like us: