New eatery evokes comfort of the campfire
A couple with 20 years' experience in the restaurant business has realized their dream of relocating to Bridgton and starting a new restaurant specializing in
American cuisine with an emphasis on creative comfort food.
Joel and Michelle Hapgood will hold their grand opening on Monday, Feb. 28 of the Campfire Grille at The Pleasant Mountain Inn, overlooking Beaver Pond. The space was formerly run as the Mountainside Restaurant, which has since moved to the Bridgton Commons Golf Facility.
"We had been planning to move to Bridgton for over 11 years with a dream to open our own restaurant, and when this space became available we jumped at the chance," said Michelle, who was the director of catering at The Weston Golf Club in Weston, Mass. Husband Joel comes from the Charlie Horse Restaurant in Kingston, Mass., where he was the executive chef.
Both graduated from Johnson & Wales University; he, with a culinary arts degree, and she, with a degree in hospitality management. Joel will serve as the Campfire Grille's chef, and she will be the manager.
Their website, www.thecampfiregrille.com states that "camping is what folks in Bridgton's Lake Region call it, whether they are living in a tent alongside a lake or stream, attending one of the many youth or family camps as a summer resident, or staying in a place of their own, large or small, so they can enjoy the many winter sports available here as well." The site says that the restaurant's menu offerings — Pondicherry Park Salad, Moose Trail Sausage, Pondicherry Tips, Winona a la Bridgton, to name a few — "are based on the places, creatures and experiences one might find in our special part of Maine, where anyone can enjoy the essence of Maine's motto: 'the way life should be.'"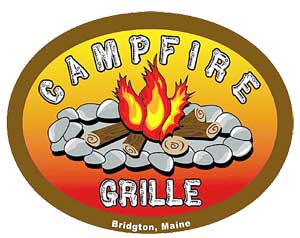 A kids' menu evokes memories of campfire sing-alongs, with such offerings as "Boom-Chicka-Boom" chicken fingers and "Do Your Ears Hang Low" hot dogs.
Michelle said they will be open for lunch and dinner seven days a week, and promise to offer a family-friendly atmosphere with their American fare of steak, chicken, pasta, burgers and flatbread pizza. The restaurant has a 100-seat dining room, a private room for parties of up to 50, an outdoor deck overlooking Beaver Pond and an area outdoors to place a tent for larger events such as weddings, barbeques and clambakes. The couple will offer takeout and even have future plans for off-site catering.
The lunch menu offers a full range of sandwich choices such as the Bay of Naples Wrap and Sebago Roast Beef. And there are burger choices aplenty, ranging from The Lovewell, with fried cherry peppers, and The Highland Laker, with barbeque sauce, cheddar cheese and onions.
Oh, and don't forget their lounge, where one can sample such exotic "campfire cocktails" as a S'mores Tini — a Godiva chocolate martini with Bailey's Irish Crème, vanilla vodka and light crème de cocoa, garnished with a crushed graham cracker rim and toasted marshmallow.
Please follow and like us: