New Casco Town Office taking shape; hope is for late October occupancy
Staff Writer
CASCO — Casco's future town hall has an estimated move-in date that should have staff working in a new building before Thanksgiving.
"We are still hoping for a late October occupancy. If that is pushed into November, that is okay," Casco Town Manager Dave Morton said on Tuesday.
Moving one town office over to the new town office is not a chore that will be done by volunteers.
"We have already hired a professional moving company, actually two moving companies: One that will disassemble the furniture and another that will move heavy stuff," Morton said.
"We are reusing most of the office furniture although we are buying a few new items. The company that manufactures it will disassemble the furniture, put it together and work on the arrangement for the new pieces that we will buy," he said.
"At some point, a few weeks after we move in, we will have an open house." he said.
Currently, at the construction site, there is work going on outside. But, even more activity is taking place inside the newly-erected building, Morton said.
"Right now, the framing company is still working there. They are doing the siding and finishing up the interior," he said.
The contractor doing the framing is NEAL-CO Construction Co., out of Wilton.
"Geoff Whiteley (of Casco) is finishing up the electrical. The plumbing contractor is Harley Johnson. His crew is doing the rough-in plumbing. They are getting the pipes ready so that the sheet rocker can come in next," he said.
"Tomorrow, we are meeting with the telephone company that will be installing that," Morton said.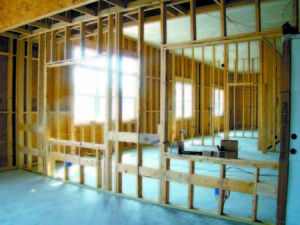 "We have a company that will install the firewall that protects the computers. The security company has done a walk-through and that wiring is being done by the electrician," he said.
The project cost is still under-budget, he said. Casco residents approved $600,000 in funding for the construction project at Town Meeting in 2015.
The town has assumed the role of the general contractor for this project, allowing costs to be kept down. Acting as general contractor also expedites the work since a bidding process is not required. Groundbreaking occurred on May 9.
Sometime in the early fall, the landscaping will be completed. But first, "there will be some final groundwork. Once the siding is done, the earth contractor will finish his work," Morton said.
"Then, a landscaping company will come in with some of the plantings. The selected plantings are all native Maine species, and the height will be about three to four feet," Morton said.
Please follow and like us: