Neighbors armed with questions about Woods Pond Village proposal
By Wayne E. Rivet
Staff Writer
If Richard Dunton had a specific approach on how he was going to unveil a 50-plus lot subdivision in South Bridgton, it changed immediately last week.
Before Dunton could present a synopsis of the Woods Pond Village project, several members of the audience fired question after question during a public informational meeting held in the Bridgton Municipal Complex downstairs meeting room.
"The floor is yours," said Dunton, the director of engineering for Main-Land Development Consultants of Livermore Falls. "I will answer as freely as I can."
First question, who is the property's owner?
The 54-acre property (Tax Map 4, Lot 15) is located off Route 117, across from Snow Valley Road in South Bridgton. It is owned by Ira Sochet Revocable Trust. Dunton explained that Ira Sochet resides in Florida, but also spends time here in Maine.
The project manager is Betty LeGoff of Denmark, who is a representative of the owner.
At the meeting's conclusion, LeGoff introduced herself and told about 12 people in attendance that the intent is to keep "the natural beauty of the land," leave buffers and use local contractors as much as possible.
One attendee wondered when the property was sold, saying she would have "robbed a bank to buy it." Years ago, she had talked with the previous owners regarding if they decided to sell, she would have been interested in purchasing.
Dunton admitted he had no idea when the property was placed on the market or when it was purchased.
Dunton explained that as "part of the process," a public informational meeting had to be held before a pre-application meeting could be scheduled and before the project could be sent along to the Maine Department of Environmental Protection for site development and location permits.
The public meeting was to inform residents what is planned and take feedback so developers can shape the project "with good, savvy input."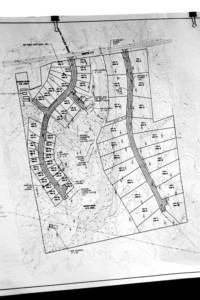 At this point, no project schematics will be available to the public for review (a sketch was shown at the meeting). However, once the project lands on the Bridgton Planning Board's table for review, plans will be available for public inspection at the town office and at the state level.
LeGoff believes seven property owners abut the site. She noted that in accordance to Bridgton's Subdivision Ordinance, all landowners within 500 feet of the property must be notified when an application is submitted for town approval.
The proposal calls for 50-plus lots, ranging in size from smaller lots for homes in the 5,000 to 10,000 square foot range to lots nearing an acre. The project also includes a proposed walking trail and picnic area.
Each development will be accessed by separate roads (at this time, the roads do not connect). Where specifically those roads will be located will need approval from the Maine Department of Transportation. Dunton pointed out that a current logging road is not one of the proposed development roadways. It is located closer to the brook.
The East Side properties (larger lots) — which is considered a more traditional subdivision, Dunton said — will be served by individual wells and septic systems. The homes will likely be two to three bedrooms.
The West Side properties will likely be one-bedroom units or possibly duplexes (thus totaling two units). This development will be serviced by a common water supply and a common wastewater system. The plan calls for several "disposal fields," spread out in different locations "so there is no concentration of wastewater in one particular area," Dunton pointed out.
One resident questioned how the development might affect his water supply.
"How much water will these units take out?" he asked. "I am concerned about my water supply, and if it is impacted by the wells being drilled there, what recourse do I have?"
Using the state wastewater code, which Dunton says leans on the conservative side, the use would be about 5,000 gallons per day for the entire development (based on units proposed).
One test well has already been drilled, and is yielding five gallons per minute.
"Drilling a well is part of the planning process to determine what the yield will be, max output, etc." Dunton said. "It may seem like putting the cart before the horse. It's not an assumption that approvals will be given. It's just proper planning."
To determine the impact of the common well on surrounding water sources, a test will be conducted, pushing the well to full yield over a long duration. Abutters' wells will be monitored during the test to see if water use at full yield had an impact on surrounding water supplies. A water level meter will be used. Attendees said their wells vary in depth from 240 to 660 feet.
"A traditional subdivision with acre-size lots is sufficient to support individual wells," he said.
Dunton said the second part of the testing process will be water quality, to see if any changes occur. Costs will be borne by the developer.
In regards to fire protection, two options will be considered — a stormwater pond or tap into Mary Day Brook for a dry hydrant. The matter will be discussed with fire department officials during the local permitting process.
Karen Hawkins and others impressed upon Dunton that potential buyers should be made aware ahead of time that several farms exist near the subdivision.
Another person added, "This will not be an issue because we were here first."
Dunton responded, "We hear that concern loud and clear, and I'm making a note of it."
The entire development targets homeowners in the 50-plus age range.
"The intent of the development is for smaller homes for folks who are leaving their longtime home for a place that has less maintenance and is affordable," Dunton said.
One resident had called the state to check whether proper logging practices were being used at the site, and was told, "yes."
Another resident asked if the two developments were going to be "gated communities" with no public access?
"That's a good question," Dunton said. "I'll make a note on that…We will do our best to address your concerns."
There will be an association and covenants associated with this project and lots. Ownership will be passed to purchaser.
Dunton expects the proposed project will be submitted to DEP within "months."
"When you get close to submitting, that's the time you hold the public informational meeting," he said.
Please follow and like us: