My Irish Up: Dateline, Center of the Universe
By Mike Corrigan
B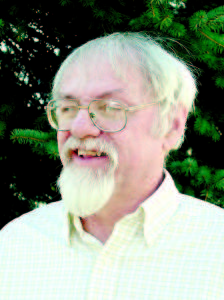 N Columnist
CENTER OF THE UNIVERSE — One of the most depressing things I discovered soon after I moved to Lewiston (motto: "America's Greatest City") was that it was America's worst city.
Everyone said so, even most of the people who lived here — and that includes the man, clearly a famous ironist, who made up the motto.
Ever the contrarian, I told people I loved it. This is like jumping into Casco Bay in January and claiming the water's just a little too warm for you and it would have been ever so much more fun to have come during the cold snap. Yes, I'd tell folks I loved Lewiston and they would smile understandingly and talk soothingly to me as they beckoned to some invisible agent, who was apparently lurking just offstage, at least in their deranged minds.
The thing is, I did love this place. Still do.
What's so great about Lewiston, you ask? And I answer: Only everything!
In fact, here's a full list of the things that I've found to complain about in Lewiston.
1. People can't see how great it is.
That's it! One thing, and that's a human failure, and thus forgivable.
In no particular order, off the top of my head, five things I love about my adopted city:
• The Basilica of Saints Peter and Paul. Oh. My. God. Literally, oh my God! The Basilica is the most beautiful church in Maine. You can see it from just about anywhere, peeking out from intersections, sitting on its little rise on Ash Street. The Basilica is the second largest church in New England. Listen, I've seen Notre Dame de Paris and Chartres, I've seen Heidelberg. Our Gothic Basilica is better, stronger and faster. (Plus, on a good day, there are more crows on top than you can count. Now that's Old World charm.) Finally, Lewiston people built it themselves, with their nickels and dimes. Talk about passing the collection plate!
• Bates College. Beautiful place. Unbelievable library. Great resource for lectures, readings, art exhibits, and obscure books that only I have ever borrowed, etc. It feels like the best personal library in the world. True, I have to share it with a few students. But they go away in summer; I don't. Best of all, I can walk to it in five minutes.
• Lewiston Sun-Journal. Best daily newspaper in Maine; a family newspaper that wins the top award just about every year. Plus, their plant prints your Bridgton News, a family-owned newspaper that wins top awards in a whole bunch of categories every year.
• The views on Main Street, looking down Lisbon Street, or Middle Street, or Bates Street, or across at the Kora Shrine Building and past that to the Basilica, or… well, anyplace on Main Street, except across from the hospital (where stand three more recently-constructed Neon-Blighted Cardboard Boxes of Modernity, contaminating that small section) — and the architecture is fantastic! And nobody notices! People never even look at it! Never! They are so inoculated to the streetscapes, the long cutout views, the lovely forms of buildings and varied architectural styles, they literally can't see them anymore. Yes, the place is worn, some of it is in serious need of repair, but Lewiston boasts (or would boast, if it knew how to boast) an authentic, gorgeous structural cityscape. For added interest, there's the river, much cleaner than it ever was and far more beautiful than it has any right to be, and there are even canals, built by my Irish ancestors 160 years ago. And those canals ran the water that powered the…
• …mills. The mills! I love the mills. There's a million square feet of unused floor space in the mills of Lewiston. A million! At least some of it is being converted to housing, now that the economy is creaking back toward forward motion again. Also, other spaces are being used in the big six remaining, imposing, built-to-last brick mills, although most of the solid old hulks look like they're standing empty. The old Hill Mill on Chestnut Street, for example, has about 15 different small businesses in it. The history here is piled up six feet high outside every door; people plow through history every day and they don't notice that, either.
That's five, and I promised. But there are also the parks and the balloon festival and the Franco Center and The Italian Bakery and Roy's All-Beef Etc.'s and the hockey team (some years) and Museum L/A and the diversity and the yeasty smell of bread in the air and any number of good restaurants. (DaVinci's: the best restaurant in the world.) You can walk to get whatever you need, and walk safely — despite its reputation, Lewiston has the lowest crime rate of any Maine city. But it thinks it's crime-ridden, and in Lewiston as in the rest of America, perception is reality.
All that, plus you can afford to live here. Sure, about three hundred million dollars in investments and this place would look a bit spiffier, and even its many detractors might notice. But yuppifying the place might not be good either; then you probably couldn't afford to live here.
Okay, the shopping is kind of bland and the newer malls in Auburn house all the linoleum emporiums of commerce, but, really, if we're going to rate shopping experiences high on our list of urban attractions, how shallow are we? I'll take Lewiston the way it is, including my own old, well-worn neighborhood of Sunnyside, which looks as if it has yet to make it out of the 1950s.
Beautiful. Just plain beautiful!
Former Bridgton News reporter Mike Corrigan now lives in Lewiston. But you already know that.

Please follow and like us: