Mose A. Russo
SEBAGO — Mose Angelo Russo, 83, of Sebago, died on Dec. 20, 2010, with family members by his side.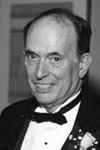 He was born in Portland, the son of Ciro and Josephine Russo. Mose attended Portland High School and Hebron Academy. He furthered his education at Tufts University and graduated from University of Maine at Orono where he received his master's degree.
Mose served in the U.S. Navy during World War II. On June 21, 1952, he married Theresa Josephine Myers at St. Mary's Church in Westbrook. He was employed by SD Warren in Westbrook for 38-plus years as a research chemist.
Mose loved the Sebago Lake area as a child and moved his family up to North Sebago in 1969. He loved his community and family by volunteering his time and efforts in the Sebago Rescue, Cub Scout Troop 114, Lions Club, SAD 61 School Board member and St. Joseph's of Bridgton Knights of Columbus. Mose was a former communicant of St. Joseph Church of Bridgton and Our Lady of Sebago Chapel.
He was a wonderful and caring family man and a loving husband.
He was predeceased by his parents; and a brother, Leonard Russo.
Survivors include his beloved wife of 58 years, Theresa Josephine of Sebago; four sons, Mose Russo Jr. of Myrtle Beach, S.C., Mark Russo of Sebago, Paul Russo of Durham and Francis Russo of Bridgton; his two daughters, Maria Walker of Sebago and Teresa Stein of Scarborough; 12 grandchildren; and one great-grandchild.
Visitation was held on Tuesday, Dec. 21, 2010, at Jones, Rich & Hutchins Funeral Home, 199 Woodford Street, Portland. Prayers were recited on Wednesday, Dec. 22, 2010, at the funeral home, followed by a Mass of Christian Burial at St. Peter's Roman Catholic Church. Interment followed in Calvary Cemetery. A reception for relatives and friends immediately followed at the Woodfords Club, 179 Woodford Street, Portland.
Those desiring may make memorial contributions to: Sebago Rescue, 4 Town Pit Road, Sebago, ME 04029.
Please follow and like us: