Maynard W. Ridlon Sr.
HIRAM — Maynard W. Ridlon Sr., 81, of Hiram died on Oct. 22, 2010 at Central Maine Medical Center in Lewiston.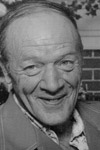 He was born in Naples on Oct. 5, 1929, a son of William and Evelyn Moore Ridlon. He attended Sweden schools.
He was a hard worker his entire life, working mostly in the woods as a logger and a truck driver. An accident in 1993 forced his retirement. He also loved working on small engines, mostly fixing chain saws.
He loved being outdoors doing things like hunting, fishing, and camping. He will be sadly missed by all who knew and loved him.
Besides his parents, he was predeceased by two sons, John and George Ridlon; and two brothers, Robert and Stanley Ridlon.
Surviving are his wife of 30 years, Joyce Ridlon of Hiram; three sons, Maynard Jr. of North Waterford, Kent of Iowa and Wayne of Colorado; a stepson, Rex Richardson of Naples; two stepdaughters, Terri Arsenault of Harrison and Tina Parker of Florida; two sisters, Mary Brooks of Freeport and Gail Bartlett of Sweden; and many loving grandchildren, nieces, and nephews.
Visiting hours were on Wednesday, Oct. 27, at the Watson, Neal & York Funeral Home, 71 Maple Street, Cornish. A funeral service will be at the funeral home on Thursday, Oct. 28, at 11 a.m. Burial will follow at Pleasant Ridge Cemetery in Hiram.
Please follow and like us: