Mary D. Stone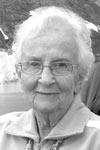 Stuart, Florida — Mary Dorsey Iglehart Stone passed away on March 14, 2011 surrounded by her loving family. She was born in Akron, Ohio on September 15, 1917, brought up in Long Branch, New Jersey, and lived in Beechhurst, Long Island, New York and Bridgton, Maine. She lived in Stuart, Florida, for the past 36 years.
Mary volunteered all her life in church groups, scouting, Red Cross, Civil Defense, and was a volunteer at the Cracker Barrel at St. Mary's Episcopal Church in Stuart for 36 years. She was a 50-year member of PEO, a philanthropic organization.
She was predeceased by her husband, Frank T. Stone, in Bridgton. Survivors include a daughter, Nancy E. Stone of Stuart, Fla.; a son, Thomas H. Stone of Bridgton; six grandchildren and nine great-grandchildren.
A memorial service will be held at the Hazen Cemetery on Rt. 93 in Bridgton at 11 a.m. on Sunday, June 12.
Please follow and like us: