Mary A. Champagne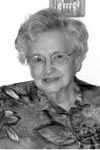 Mary Alice Champagne, 97, formerly of Brunswick, died Tuesday Jan. 17, 2012 at Bridgton Hospital.
She was born in St. Honore, P.Q., Canada on Jan. 10, 1915, a daughter of Hermenegilde and Marie LaPointe Boutin.
On May 6, 1936, she married Dominique Champagne. In August 1944, they moved to the United States, where Dominique worked for Canadian Pacific Railroad for many years.
Alice worked at Charles A. Dean Memorial Hospital in Greenville as a cook. Following the death of her husband, she moved to Brunswick and worked at Jay Brush for many years, retiring in 1978.
Her life was devoted to her husband and family and loved spending time with her siblings, children and grandchildren.
She is predeceased by her husband, five sisters, five brothers and a grandson.
Alice is survived by a son, Rosaire Champagne of Bridgton, with whom Alice made her home from 2002 to 2009; three daughters, Lucille Burnham of Bath, Lisette Peddle of Belgrade and Patricia Livernois of Poland; 10 grandchildren; two sisters, Lenora Bilodeau and Rosarienne Gilbert; two step-granddaughters; eight great-grandchildren; and many nieces and nephews.
Visiting hours were on Friday, Jan. 20 at Demers-Desmond Funeral Home, 34 Cushing Street, Brunswick. A Mass of Christian Burial was celebrated on Saturday at All Saints Parish, St. John the Baptist Church, 39 Pleasant Street, Brunswick. Burial will be in Greenville Cemetery in the spring. Condolences to Alice's family may be expressed by visiting www.desmondfuneralhomes.com
Please follow and like us: