Martha Connell, 95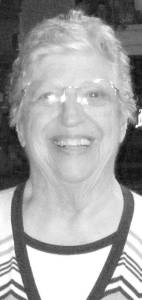 OTISFIELD — Martha Connell, 95, passed away on Sunday, Nov. 10, 2013, at Country Village Assisted Living in Casco after a long period of declining health. Martha, daughter of Silas and Amy Nutting, was born in Otisfield in 1918. She grew up in Otisfield and South Paris, attending schools in South Paris. She was a 1941 Graduate of Wheaton College in Illinois and a member Chi Sigma Theta Sorority during her years at Wheaton.
After graduation Martha became a teacher, working primarily with first and second grade students. Early in her career she taught in Milo and Bath before moving to Mass. to teach in Belmont and Summerville. It was there she met William and later married in 1951.
In 1954, after having two sons, Martha and William moved to Otisfield to assist with the care of her parents. While in living in Otisfield, Martha taught at many area schools including Casco, Oxford, and Otisfield.
She was an active member of the Spurrs Corner Church her entire life and taught Sunday School there for many years.
Martha loved and was devoted to her entire family as well as countless friends and former students who were remembered every birthday and Christmas.
Martha was predeceased by husband William; brothers Albert Deane and Theodore Nutting; sisters Charlotte Porter and Ruth Hacker; nephew George Porter; niece Marjorie Porter; as well as special friend Charlotte Robinson.
Surviving are sons Patrick and companion Diane Diconzo of Portland, and Peter and wife Karla of Norway; grandchildren Jared and companion Maura Mikan of South Boston, Mass., and Jodi and fiancé Clint Hoberg of Austin, Texas; brother and sister-in-law Robert and Maria Connell of Columbia, S.C.; nephew Robert and wife Madeline of Gray; nieces Nancy Coombs of Otisfield,  Dorcus and husband John Barlow of Cherokee, Iowa, and Gail Dubov of Lawton, Okla.; and many special grandnieces and grandnephews.
Special thanks to all the staff at Country Village Assisted Living in Casco for their devotion to Martha's care over the last few years of her life.
In lieu of flowers donations may be sent to Country Village Assisted Living Activity Fund, PO Box 600, Casco, ME 04015.
Visiting hours will be held from 1 to 2 p.m. on Saturday, Nov. 16, 2013, at Hall Funeral Home in Casco, where a funeral service will be held immediately following the visiting hour at 2 p.m.
Please follow and like us: