Marilyn A. Bean, 89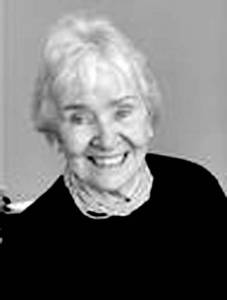 FRYEBURG — After a Saturday of opera at Fryeburg Academy's Leura Hill Eastman Performing Arts Center and Pace Galleries of Art enjoyed and shared with her daughter and close friends, Marilyn A. Bean, 89, of Fryeburg, died unexpectedly on Sunday, Nov. 10, 2013.
The second child of Arthur and Bertha Allard, Marilyn was born on Oct. 2, 1924, and raised in Biddeford.
Although "Mary Lou" excelled in school, she was unable to attend college when her father died just as she finished high school. Instead, she became the business manager for Butler's Department Store in then thriving downtown Biddeford. This began a long and fulfilling career in business and finance, which suited her temperament, aptitude and skills.
After a long courtship, Marilyn married the love of her life, Roger WP Bean, of Saco on June 15, 1947. Together, they had two children, Kathryn and Joel. Family meant a great deal to her.
Also her life was enriched by an intense intellectual curiosity. She was a voracious reader. After retiring, she and her husband Roger traveled around the world exploring places they had read about — from the rivers of Europe to the wilds of Nepal. She also became proficient in Spanish, kept up with ever-evolving computer technology, and with the support of a writers' group became a published author.
Even while working, she found time to volunteer in her community, serving on the planning committee to establish the first Catholic Church in Fryeburg and in a variety of leadership positions including the Elizabeth Seton Parish Council secretary/treasurer, the Seton Society treasurer, and key roles in the Christmas Giving Tree for local families in need. She was a 20-year docent at the Victoria Mansion in Portland, president of the Saco Valley Garden Club, volunteer at the Fryeburg Library and at blood drives.
At 89, she remained involved in many of these groups and still found time to play bridge weekly, discuss ideas at the library's book club and share her recent work with a group of local writers.
Marilyn was predeceased by her husband, Roger WP Bean in 2012; son, R. Joel Bean; sister, Marguerite Slocum; brothers, Robert and Roland Allard; and her parents.
She is survived by her devoted daughter, Kathryn SB Davis of Kennebunk; two grandchildren; and three great-grandchildren.
A service in her memory will be held at Saint Elizabeth Ann Seton Church, 857 Main Street, Fryeburg, at 10 a.m. on Saturday, Nov. 23, 2013. The Mass will be followed by a reception at the church.
In lieu of flowers, donations in memory of Marilyn, may be sent to benefit Fryeburg Academy's Leura Hill Eastman Performing Arts Center & Pace Galleries of Art, 745 Main St., Fryeburg, ME 04037, in care Rachel Damon.
Please follow and like us: