Margaret Winship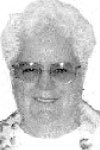 FREEPORT — Margaret Winship, 75, of Freeport, passed away at the Hawthorne House on Wednesday, Sept. 28, 2011.
She was born in Bridgton on May 26, 1936, the daughter of the late Edward and Margaret (Smith) Bressette. She attended Bridgton and Oxford schools.
Margaret married Russell Winship on Aug. 8, 1952.
Margaret is survived by her husband of 59 years, Russell Winship of Freeport; her son, Mike Winship of Freeport; her daughter, Sharon Orchard of Lewiston; her brother, Robert Bressette of Poland; five grandchildren; and several great-grandchildren.
She was predeceased by six brothers and six sisters.
Please visit www.lindquistfuneralhome.com to share condolences, memories and tributes with the Winship family.
There will be a graveside service at Craigie Cemetery, Pismo Beach Road, Oxford, at a later date.
Please follow and like us: