Make your trip count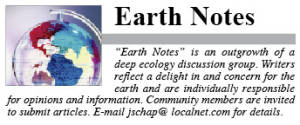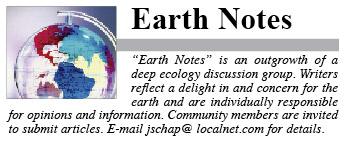 By Jen Deraspe
One of my mother's many mottos was, "Make your trip count." If I was running upstairs to my bedroom, her voice would echo off the walls, "Take up the laundry, Jenny. Make your trip count!" If I was heading down to the cellar (old school Mainers' don't call it a basement.), I had to bring down some crap she wanted down there for storage. I would roll my eyes and follow her demands.
As it turns out, I say and do the same thing. No surprise. The motto has found its way into my green-living schemata. Her voice still rings in my head, making all my trips up and down the mountain, to and from town into some vast, greater purpose and project. It is so rare that I travel anywhere without a backpack and a cloth bag in each hand filled with random, unrelated items, making my trip count. This practice got anchored even more deeply by the reality that I live a bit up Pleasant Mountain and my cabin is accessible only by foot half the year, depending upon snow and mud season.
Earth Day is just about here, my favorite holiday. It invites us to notice our lovely home, planet earth, from which we source everything. All that we need comes from this floating, evolving, mass of organic matter and energy. Even the artificial ingredients of life, transmuted through chemical reactions, fires, cauldrons created in the laboratory giving birth to credit cards, the leaf rake, the fishing pole, the wheel barrel.
Great is the community effort uniting to pick up the future artifacts of our times rearing itself from underneath the receded snow and ice. Containers, drinking straws, grocery bags hanging from the tree limbs, swaying in the wind. A lovely effort, indeed, to clean up after ourselves. We do it for us, after all, to not pull the eye from the beauty that surrounds us here amidst the lakes and mountains.
And yet, is there more we could do on a broader scale that wouldn't be too bothersome or inconvenient? My mom points to that and I invite you to join me in it. "Make your trip count."
The next time you need to drive to town, wait and contemplate…can it wait until more errands accumulate? Going to town has become a weekly event. I do all my errands on one trip, saving them up for the big adventure. Try this…park your vehicle behind Renys, sport your backpack and two clothe bags and hit the streets. Hit Renys for some raw almonds, rice crackers and an out-of-season shirt on sale and bring it back to your car. Head back out to the bank, post office and bookstore. Get your haircut and treat yourself to something at Beth's Kitchen, sitting at a sunny table near the beautiful stream out back. On your way back, peak into Gallery 302, looking for that perfect gift for a loved one. If you want to go big, head out to the transfer station, then visit Morning Dew, Paris Farmer's Union and Hayes True Value. Don't forget your photocopying at The Printery. Last stop Hannaford's or Food City.
Benefits of making your trip count:
You get to stay home more, consuming less non-renewables and non-needables.
You are lessening vehicle traffic and adding to foot traffic.
You can make more contact with community members.
Less carbon is being burned and released.
Mom would be proud with the level I have taken her motto. I tried to do all my errands on bicycle one time and it took all day and most of my energy. So, for now, I use gas-powered transportation until I find my way into something greener. Anyone want to share their Prius?
Jen Deraspe, founder of Nurture Through Nature, lives off the grid on Pleasant Mountain in Denmark. For more information, visit www.ntnretreats.com
Please follow and like us: