Mae E. Malia
PORTLAND — Mae E. Malia passed away peacefully at home on Christmas morning with her family by her side.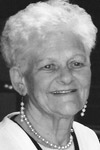 Mae was born on May 22, 1923, in Portland, the daughter of Frieda (Babbage) and Archie Gerry. She graduated from Portland High School as a Brown Medal recipient in the Class of 1941. She married her high school sweetheart, Joseph Malia, in April of 1942, and together they had five children.
She was a devoted homemaker even while working at Burnham & Morrill, Porteous, the Jewish Home for the Aged, and Maine Medical Center. She belonged to the Cathedral Parish where she was a member of the Mother's Club while her children attended the school.
Mae enjoyed many vacations in the Caribbean Islands, Bermuda, Las Vegas and Florida, but her favorite spot of all was Hawaii.
Mae was predeceased by her husband Joe; her mother and father; her stepfather, George Carroll; a brother, Leon Gerry; a grandson.
She is survived by her brother, Richard Carroll of Crystal River, Fla.; her children, Judi, Cindy Vacca, Joseph, all of Portland, James of Lewiston, Cheryl Doherty of Crystal River, Fla.; 13 grandchildren including Mary Fraser of Casco; 14 great-grandchildren including Riley and JJ of Casco; and several nieces and nephews.
Visiting hours were on Sunday, Jan. 2, 2011, at Independent Death Care, 660 Brighton Avenue, Portland. Prayers were recited on Monday, Jan. 3, 2011, at the funeral home, followed by a Mass of Christian Burial at the Cathedral of the Immaculate Conception, 190 Cumberland Avenue, Portland. Interment followed at New Calvary Cemetery in South Portland. To offer words of condolence, sign a guest book, and share memories, go to the obituary page at www.independentdeathcare.com
In lieu of flowers, memorial contributions may be made to: VNA Home Health & Hospice, 50 Foden Road, South Portland, ME 04106.
Please follow and like us: