M. Frances P. Adams
South Paris — M. Frances Pendleton Adams, 92, of Stoneham, Maine, was taken to our dear Lord and Savior on Jan. 13, 2012. She was born Aug. 27, 1919 in Huntington, West Virginia. She was a resident of the Maine Veterans Home in South Paris and loved all the staff. She attended school in Huntington, where she graduated with honors in 1937. She was a member of the Campfire Girls and chorus at school and church. After graduation she worked in the Sheriff's Office as a court stenographer and deputy.
She joined the Army in 1941, where she became a part of the secret service; whenever she was asked questions about the service her answer was always, "It is confidential," and she could not tell what she had been involved in. She met the love of her life, Winfield W. Adams, in 1945. She met him on a Friday night in the mess hall in the Army in New Jersey, and married him the very next Friday. She was a member of the V.F.W. Aux., Order of the Eastern Star, Grange, Pythian Sisters, Lovell United Church and Stoneham Church. She had worked for the Boulder Brook Club in Lovell, Kishners in Milford, New Hampshire, and the Norway Shoe Shop.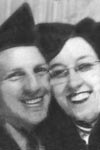 She is survived by her two daughters, Elizabeth Kiesman and husband Kenneth (Tinker) of Sebring, Florida, Shirley Danforth and husband Everett of Stoneham, Maine; grandchildren, Robert Danforth and his wife Ruby, Wanda Martin and her husband Carey, Lisa McGee and her husband Gerard, Lynn Keenan and her husband Todd, Richard Dunham and his wife Kathy, Kenneth Kiesman and his wife Wendy, and Kimberly Kiesman. She is also had 14 great-grandchildren, one great-great-grandchild, and numerous nieces and nephews.
She was predeceased by her husband, sister and brother. The family would like to thank the Maine Veterans Home in South Paris for the tremendous care and love they gave her during her years residing there; and a special thanks for their support to her and the family during her last days.
A memorial service will be held 3:00 p.m., Saturday, Jan. 21st at the Maine Veterans Home in South Paris. A gathering of friends and relatives will be held at the North Lovell Grange following the service. In lieu of flowers memorial contributions may be made to the Maine Veterans Home Activity Fund, 477 High Street, South Paris, ME 04281. Arrangements are made with Wood Funeral Home, Fryeburg. Online condolences may be expressed to the family at www.woodfuneralhome.org
Please follow and like us: