Lucille M. Wespiser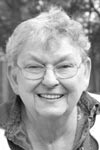 NAPLES — Lucille M. Wespiser, 76, passed away peacefully on Saturday, July 16, 2011 at home.
Born in Chicopee, Mass. on March 14, 1935, a daughter of the late Gerard W. and Germaine Y. (Paul) Laramee, she has lived in Naples since 2001 and prior to that resided in Acton, Mass. since 1965.
Lou, as she was known, was a RN, a graduate of the Holyoke Hospital School of Nursing, Class of 1955.
She is survived by her beloved husband of 55 years, Robert J. Wespiser; her loving children, Robert P. Wespiser of Lee, Mass., Kathleen Tragert  of Naples, Carol Stephansky of Whitman, Mass., Patricia Gill of Longmeadow, Mass., Anthony J. Wespiser of Townsend, Mass. and William J. Wespiser of Naples; 13 cherished grandchildren and many nephews and nieces. She leaves a brother, Roland A. Laramee of Philadelphia, Pa., and a sister, Ann Graham of Chicopee, Mass.
Lou was predeceased by a brother, Paul G. Laramee in 1995.
A funeral service was held July 19, 2011 at Hall Funeral Home, 165 Quaker Ridge Road, Casco. On-line condolences may be left for the family at hallfuneralhomeinc.com.
Please follow and like us: