Lucienne M. Roy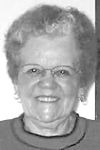 AUBURN — Lucienne Marie Roy, 94, of Lewiston, peacefully passed away on March 17, 2012 at The Hospice House of Androscoggin Home Care & Hospice, after a brief illness, with her loving family at her side.
Lucienne was born in St. Hilaire, New Brunswick, Canada, on Feb. 20, 1918, the daughter of Levite and Marie (Albert) Albert, the fourth of six children. Her mother passed away when Lucienne was around 12 years of age, and she and her older brother Aurele took over the household and helped raise a younger brother and sister while their father was away working in another Canadian province.
On Dec. 26, 1942, Lucienne married Aurel J. Roy of Frenchville, in a ceremony in Claire, New Brunswick, Canada. She and Aurel settled in Lewiston at that time, as he was serving in the U.S. Army stationed at Fort Williams in Cape Elizabeth in the coastal defense, and so she could work in the local Pepperell Mill. When the Pepperell Mill closed, she worked at the Bonan Footwear Company Inc., and she finished her working career at the Lewiston YWCA.
After retirement, Lucienne became a gifted quilter, artist of oil paintings and master of various crafts. She was locally famous for her work in making religious banners for her Saint Peter and Saint Paul Church, and preparing the beautiful decorations for the Monsignor Thomas H. Wallace Assembly No. 0338 Fourth Degree Knights of Columbus May Ball for many years.
In earlier years, she was active in the Daughters of Isabella and the Ladies of St. Anne. She and Aurel were very involved with the Maine Cursilio Movement at church, with the Franco-American Richelieu Club and the Association Canado-Americaine, and she was a member of Saint Peter and Saint Paul Church in Lewiston. One of the highlights of her life was when she and Aurel traveled to Rome to visit the Vatican and on to Israel where they celebrated his 70th birthday while visiting the Holy Lands.
Lucienne's sense of humor and giving personality will be sadly missed by her family and friends.
Lucienne was predeceased by her parents; her husband of 64 years, Aurel J. Roy; her brothers, Aurele Albert and Oneil Albert; her sisters, Martha Harris, Aline Baker and Simone Fournier; and a great-grandson.
She is survived by her five children, Edwina Bijou of Edmunston, New Brunswick, Canada, Constance Godfrey Sr., of Winthrop, Gilbert Roy of Casco, Dr. Ronald Roy of Brighton, Mass. and Jacqueline Roy-Lamiette of Auburn; 16 grandchildren; 16 great-grandchildren; seven great-great-grandchildren; and innumerable nieces and nephews located throughout the United States and Canada.
Online condolences and sharing of memories may be expressed at www.lynchbrothers.com
A Mass of Christian Burial honoring Lucienne's life was celebrated at 11 a.m. on Wednesday in the lower chapel of the Basilica of Saints Peter and Paul of the Prince of Peace Parish. Committal prayers followed at St. Peter's Cemetery.
In lieu of flowers, donations may be made in Lucienne's memory to her previous home, Russell Park Rehabilitation and Living Center Activity Account, 158 Russell St., Lewiston, ME 04240.
Arrangements were by Pinette & Lynch Funeral Home, 305 Alfred Plourde Parkway, Lewiston.
Please follow and like us: