Louise Cormier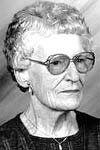 AUBURN — Louise Exilia Cormier, 83, of Auburn, died Friday, Dec. 30, 2011 peacefully with all her children by her side, at the Hospice House of Androscoggin Home Care and Hospice.
Born in Auburn on Dec. 29, 1928, she was the daughter of Henry and Lena Rancourt Grondin. A graduate of Lewiston High School, she married Henry Joseph Cormier on Oct. 14, 1950. He passed away on Dec. 16, 2010.
She worked as a coordinator of New Auburn Senior Citizens for several years, at a few local shoe shops, and also at Bolster Heights. She traveled extensively across North America and loved cooking, family gatherings, bingo and gambling.
A member of St. Louis Church, Immaculate Heart of Mary Parish, she is survived by three sons, Henry "Hank" D. Cormier of New Gloucester, Raymond P. Cormier of LeRoy, Ill. and Frank J. Cormier of Eagle River, Alaska; a daughter, Linda I. Ouimette of Lewiston; two brothers, Richard Grondin of Lewiston and Leo Grondin of Bridgton; 13 grandchildren and 12 great-grandchildren.
Besides her parents and husband, she was predeceased by three sisters, Irene Levasseur, Priscilla Roux and Anita Lacoste.
Condolences, donations and a photo tribute may be accessed online at www.albert-burpee.com
Visitation was held at the funeral home from 2 to 4 and 7 to 9 p.m. on Tuesday. Funeral services were at 11 a.m. on Wednesday at St. Louis Church. Entombment, St. Peter's Cemetery Mausoleum.
Donations may be made in her memory to Androscoggin Home Care & Hospice, Hospice House Fund, Development Department, 15 Strawberry Ave., Lewiston, ME 04240.
Please follow and like us: