Long Lake's low levels tied to Songo Lock project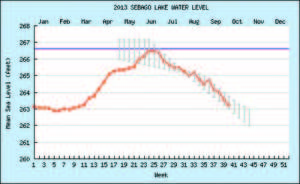 By Gail Geraghty
Staff Writer
Naples Harbormaster Bill Callahan isn't sure who to blame, in fielding recent complaints about the drastic drop early this fall of Long Lake's water level.
All he can tell them is that repair work being done now on Songo Lock was a contributing factor.
But then again, he's aware that it has been a dry fall, without much rain. And he's not sure the cause can be laid entirely at the Lock. Efforts to relicense the Eel Weir Dam by its owner, Sappi Fine Paper, have been delayed for going on eight years, and are now being challenged in court. Eel Weir Dam in Westbrook controls the level of Sebago Lake, and as Sebago Lake goes, so goes Long Lake.
Or at least that's what many people, including Callahan, assume.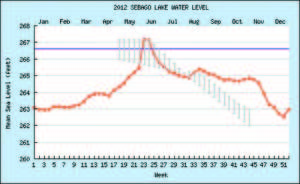 "It's a confusing issue," said Callahan, as to whether management of water levels at Sebago Lake may have played a role. All he knows is that a new management plan needs to be developed for Sebago Lake, and better procedures need to be put in place to notify the public about what is happening with lake levels, and why.
"It's just a mess. It's a nightmare. I've had people calling, and the Harrison Harbormaster has been getting calls," he said. The good news, he adds, is that by now, "Ninety-nine percent of the boats are out of the water."
Still, he said he had to scramble to call all the marinas and the Songo River Queen when levels began noticeably dropping "much, much earlier" than usual, which is typically around the second or third week of October.
"It must have dropped a good foot in a couple of weeks," Callahan said, of Long Lake and its outlet of Brandy Pond. Peter Lowell, executive director of Lakes Environmental Association, said he noticed it too, when inspecting for milfoil along the Songo River, the connecting waterway between Long Lake and Sebago Lake. Lowell said a few weeks ago it appeared the river had dropped by about two feet.
Looking to the Lock
Songo Lock is managed by the state's park system as a historic site, and operated by Sebago Lake State Park. Manager Matt McGuire said Wednesday that work began Nov. 1 to rebuild the two floodgates at the lock that the state uses each year to raise the lake in spring and lower it in the fall. The floodgates are in bad repair and have become inefficient in their task, he said.
In September, however, he said, "We were passing water (through the lock) because otherwise we were going to be unable to lift the gates." McGuire said that preparatory work was a contributing factor in the earlier lowering of Long Lake's level, but "there's certainly several factors," not the least of which was the lower-than-normal rainfall amounts in October.
Having lower water earlier than normal helped park maintenance staff with the work of removing the gates, and also met the needs of Inland Fisheries and Wildlife in encouraging salmon to use the Crooked River as a spawning route, instead of the Songo, McGuire said.
McGuire said he and his staff notified Long Lake stakeholders and towns of the earlier partial draw-down, which was necessary to make sure work could begin as soon as the crane and other equipment was in place. "We wanted to coordinate everything so that the work could be done with the least disruption possible," McGuire said. "It's something we've been preparing for, and it's a fairly big project."
He said water levels at the Lock have rebounded in the past month, and are at four inches below the summer low level currently. The new gates should be installed by early December, but they'll stay up until next spring, in keeping with their annual management plan.
As Sebago Lake goes . . .
PWD Spokesperson Michelle Clements on Tuesday referred questions on Sebago Lake water levels to Sappi. Sappi Fine Paper is the parent company of S.D. Warren Company, which originally licensed the Eel Weir Dam in 1875 and controls the lake's level under its Federal Energy Regulatory Commission license. Clements did say that PWD's Watershed Environmental Manager, Paul Hunt, told her that the Eel Weir dam does not have any impact on the level of Long Lake. She said control of Long Lake levels are entirely held at Songo Lock.
Clements acknowledged that there is considerable controversy on the issue of Sebago Lake levels, which is one reason why PWD maintains a historic record of lake levels on its website, www.pwd/org/lakelevel.php
Roger Wheeler, president of the Friends of Sebago Lake, has long been complaining that the 1997 Department of Environmental Protection management plan for Sebago Lake's Eel Weir Dam is harming water quality and the natural fishery, and is difficult for Sappi to adhere to. In a January 2013 letter to the Portland Press Herald he wrote that because the DEP plan requires specific water level targets be met on prescribed dates, "Often, Sappi either has to release excessively low flow volumes through the turbines or spill water wastefully to meet lake level targets. The yo-yo changing of outflows and the resulting harmful impacts on the water quality and ecosystem of the two estuaries was never recognized in the 1997 plan."
Part of the problem lies in having so many different stakeholders weighing in on the merits of the 1997 Sebago Lake Level Management Plan that earned a license from FERC and a DEP Water Quality Certificate. The stakeholders include the Department of Conservation, the DEP, Inland Fisheries & Wildlife, Friends of Sebago Lake, the Sebago Lake Landowners and Users Coalition, Sappi and the Portland Water District, which draws drinking water from the lake for 15 percent of Maine's population.
Levels go way low at Highland Lake, too
Jim Cossey has a thing about the town keeping its citizens informed. And as a shorefront property owner, he thinks Bridgton could have done a better job informing the public it planned to lower Highland Lake this fall.
"In the 10 years I've lived here, I've never seen it so low," Cossey said Friday. "I can walk all the way out eight to 10 feet to where my dock ends, and it's still dry." He said his brother-in-law Bill Chalmers' pontoon boat was grounded when the lake levels started dropping dramatically in early October. He said Chalmers didn't get his boat out in time.
Public Works Director Jim Kidder said he made several announcements at selectmen's meetings prior to raising the floodgate at the Highland Lake dam all the way, as part of the town's practice of drawing down the lake's level every five years so that work can be done on shorefront retaining walls.
"Every five years we drop it," Kidder said. "We open (the dam's floodgate) up and let (the water) do what it needs to do." Anyone wanting to take advantage of the lower level can apply for a state permit for shorefront work through the town's code enforcement office, he said.
"Five years ago, we had a lot of rain, and it never got low enough for (shorefront owners) to do the work," said Kidder. It also prevented the town from removing rocks and making other improvements to Highland Lake Beach.
This fall, because rainfall amounts were low, Kidder's public works crew were able to make their improvements. He's not sure how many shorefront owners also took advantage of the low levels to apply for a DEP permit.
The town closed the floodgates around a week ago, and is gradually raising the lake level up to its winter level, said Kidder.
Cossey said it was obvious the town was lowering the level for a reason, but he wished there had been some formal announcement given in the newspaper, so that people wouldn't be caught unaware.
Please follow and like us: