Lions' Student of the Month: Rachel Wandishin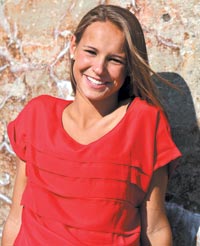 Rachel Wandishin of Casco has been selected as the area Lions Clubs' "Student of the Month" for June.
Each month, area Lions Clubs recognize a Lake Region High School senior who has excelled academically. The recipient is honored at a Lions' dinner meeting and is presented a monetary award.
Name: Rachel Wandishin
Class of: 2012
Residence: Casco
Parents: Betsy Mayo and Ted Wandishin
Siblings: Megan Wandishin and Nick Wandishin
Activities: Soccer, Basketball, Softball, National Honor Society, Varsity Club
Community activities: Volunteer at Casco Days, referee for recreational soccer and volunteer at recreational sports camps.
Hobbies: Playing sports, reading, spending time with my family and friends
Future plans: To attend Roger Williams University in the fall of 2012 and play soccer.
Schools that you have or will apply: Endicott, Roger Williams University and Stonehill College.
Schools that you have been accepted to: Endicott, Roger Williams University and Stonehill College
What is your favorite class? RW. My favorite class this year is Physics because I am learning concepts that I have never really considered or thought about up until this year.
What is your toughest class? RW. My toughest class this year is also Physics because as I stated before, it is something new this year and even though I enjoy the new concepts, they can be difficult to understand as well.
How do you balance your class work and your extracurricular activities? RW. I spend my free time wisely, getting my schoolwork done as effectively as I can so I do not have to worry about doing it on nights when I have a late practice or game.
What is the biggest challenge high school students face today? RW. I think the biggest challenge high school kids face today is learning how to balance their schoolwork with being involved in extracurricular activities. Time management skills and being organized are definitely challenges that high school students face, but need to learn to be successful.
Who has inspired you educationally? RW. My mom has definitely been my inspiration educationally. She is a fifth grade teacher and was Maine's "Teacher of the Year" in 2003. I have grown up experiencing her passion for her job and it has inspired me to want to be successful to please her as both a mother and an educator.
Please follow and like us: