Lions Student of the Month: Lucien Wallace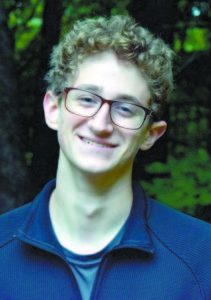 Lucien Wallace of Sebago has been selected as the area Lions Clubs' "Student of the Month" for February.
Each month, area Lions Clubs recognize a Lake Region High School senior who has excelled academically. The recipient is honored at a Lions' dinner meeting and is presented a monetary award.
Name: Lucien Wallace
Town: Sebago
Parents: Jeff and Vanessa Wallace
Student organizations, sports teams, activities, hobbies: Pep Band, Jazz Band, Jazz Combo, Band, Chorus, Show Choir, Soccer, Alpine Skiing, Tennis, Play, Musical, ASTRA Club, Math Team, Student Council, National Honor Society
Q. What do you like most about school, why? Challenging myself with the most difficult classes I can handle.
Q. What is your biggest challenge in school? Creating new opportunities for myself academically and in extracurriculars.
Q. What is your favorite subject, and why? Math and science, because its satisfying for me, like solving a puzzle.
Q. If you could change one thing about school, what would it be? The school should push music and drama more. I believe that studying music helps students in all areas.
Q. What characteristics do you believe a good teacher should possess? I think that teachers should be serious enough to demand effort from students, but be friendly enough to form a connection with the students.
Q. What goals did you hope to achieve during your high school days? I hope to graduate near the top of the class and succeed in my extracurriculars. It is also my goal to get accepted to Stanford University.
Q. What do you hope to do in the future in terms of career, and why are you headed in that direction? I hope to go to graduate school after undergraduate, then go into the work force. I hope to get a job in environmental engineering because I want to help control climate change.
Q. What do you think it will take to be successful in the future? I believe that the most important characteristic in my future will be a strong work ethic. I believe that a strong work ethic will help me overcome the many obstacles that will face me in the future.
Q. What lesson have you learned while at Lake Region High School that will help you in the future? At Lake Region, I have learned that if I want to create more opportunities for myself, I need to take leadership myself. I believe that that mindset will help me accomplish my future goals.
Please follow and like us: