Lions' Student of the Month: Jessie Gray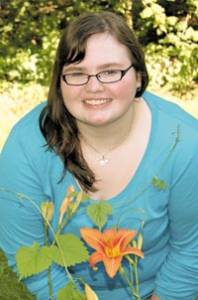 Jessie Gray of Bridgton has been selected as the area Lions Clubs' "Student of the Month" for July.
Each month, area Lions Clubs recognize a Lake Region High School senior who has excelled academically. The recipient is honored at a Lions' dinner meeting and is presented a monetary award.
Name: Jessie Gray
Class of: 2012
Residence: Bridgton
Parents: Laurie Gray and Hoyt Gray
Siblings: Mandy Santamore and Brandon Gray
Activities: Babysitting my sister's children
Community activities: JG. It's hard to have activities because of working with my sister's special needs children. I watch them often, but I try and donate my time whenever I can, doing whatever I can.
Hobbies: Reading, collecting coins, taking pictures and scrapbooking
Future plans: Going to college and hopefully working.
Schools that you have been accepted to: Quinnipiac University, Seton Hall University, Towson University, University of Maine (Presque Isle and Machias), Husson University and University of Southern Maine. I plan on attending USM in the fall.
What is your favorite class? JG. My favorite class would have to be Forensics or Anatomy. They are taught by the same teacher and they are both very interesting courses. They are interesting in their own respects. Forensics is one of my favorites because of the subject matter. I think knowing how forensic science work is done is a really interesting. Anatomy, because it will help further me in my major.
What is your toughest class? JG. My toughest class would have to be Physics or Anatomy. Physics, because it is a primarily math-based class and math has always been a weak spot for me. Anatomy is tough because there is so much you have to know and so much material that is covered in the class.
How do you balance your class work and your extracurricular activities? JG. Where I spend a lot of my extra time with my sister and her kids, it isn't always that hard because I can squeeze my work in as I watch them. Other times when I need to be there often and they don't want to cooperate or they need to go somewhere, it can be hard finding the right time to do my work. I am always able to do it.
What is the biggest challenge high school students face today? JG. Distraction. There are plenty of things that will distract students, but I find that technology is the biggest distraction. Today, so many high school students have Facebook, texting and computers that can give them access to any social networking site. For some students, they cannot find a balance between the two and they become distracted and don't do their work, which causes them to fall behind.
Who has inspired you educationally? JG. I had a teacher when I was in kindergarten, who I went to for half of the day, and then to my normal classroom the other half. She helped me become a better student. She took me from being behind to ahead. Since then, I always tried my best and worked hard at whatever I did. I would have to say that she is the one who made me realize what I could do with my education and even if I didn't get it in, I understand now that she was the motor behind my educational success.
Please follow and like us: