Lions' Student of the Month: Amy Angelone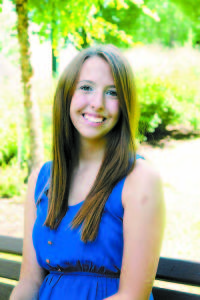 Amy Angelone of Bridgton is the area Lions Club's Student of the Month for May. Each month, area Lions Clubs recognize a Lake Region High School senior who has excelled academically. The recipient is honored at a Lions' dinner meeting and is presented a monetary award.
Parents: Marjorie and Paul Angelone
Siblings: Paul and Michael Angelone
Activities: Softball, indoor track, National Honor Society, Prom Committee, Student Council.
Community activities: Volunteering at blood drives, Camp Sunshine's Pumpkin Day, chaperone for Bridgton Rec, NJHS inductions, and cleaning up at the Brew Fest.
Future plans: Attend MCPHS University, get my PharmD degree, and become a pharmacist.
Schools that you have been accepted to: University of Connecticut, University of Rhode Island, Florida Southern, St. Thomas University, University of New England, MCPHS University (Massachusetts College of Pharmacy in Boston), University of Maine at Orono, St. Michael's College.
What is your favorite class? My favorite class in AP U.S. Government and Politics because Mr. Johnson keeps the class interesting and entertaining.
What is your toughest class? My toughest class is anatomy because there is a lot of terminology and information to retain.
How do you balance your class work and your extracurricular activities? I balance my class work and extracurricular activities by taking advantage of any free time I have and having my priorities in order.
What is the biggest challenge high school students face today? The biggest challenge high school students face today is managing time between excelling in academics, work, sports, and community service.
Who has inspired you educationally? My parents have inspired me the most because they've always pushed me to my limits educationally and in extracurricular activities.
Please follow and like us: